The artPARK is a sort of sundial. You can track the time through the day — shade is here at this point on the east side until…with still enough shade against the wall for lunch…shade starts on the west side by 3p and moves through the late afternoon until the PLATFORM is fully in shade by dinner time. Always — almost always — the shade is accompanied by a slight if not heftier breeze — it is after all a wind tunnel of sorts.
But in the heat of the day the park lies exposed. This is the fierce condition we've planted for.
Hot and dry i.e. drought resistant
Requiring minimal care i.e. no-mow, little weeding (that was the plan maybe 10 years out we think it could be true)
Withstands foot traffic 
Found plants, native plants — though we have a few fancier varieties.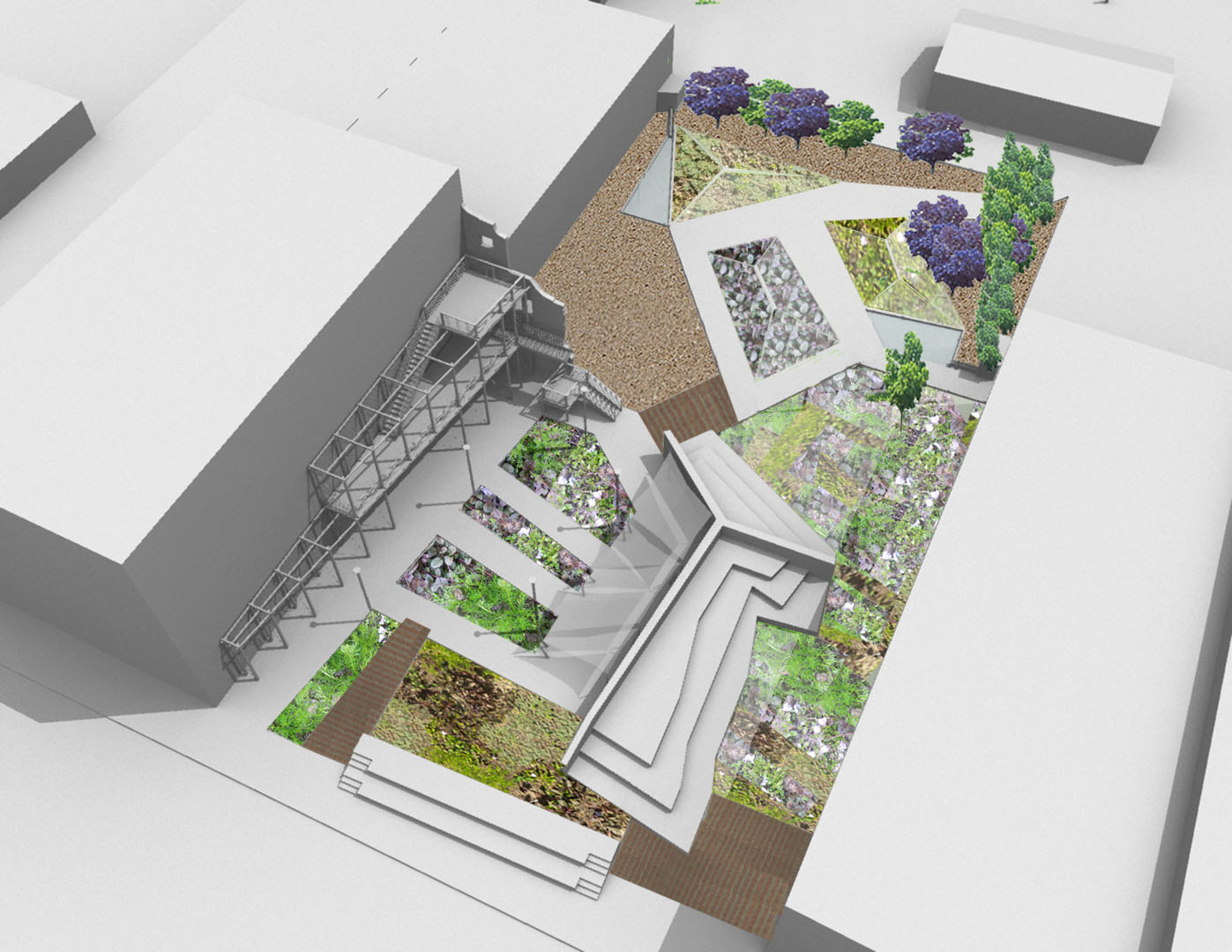 Irregular Planes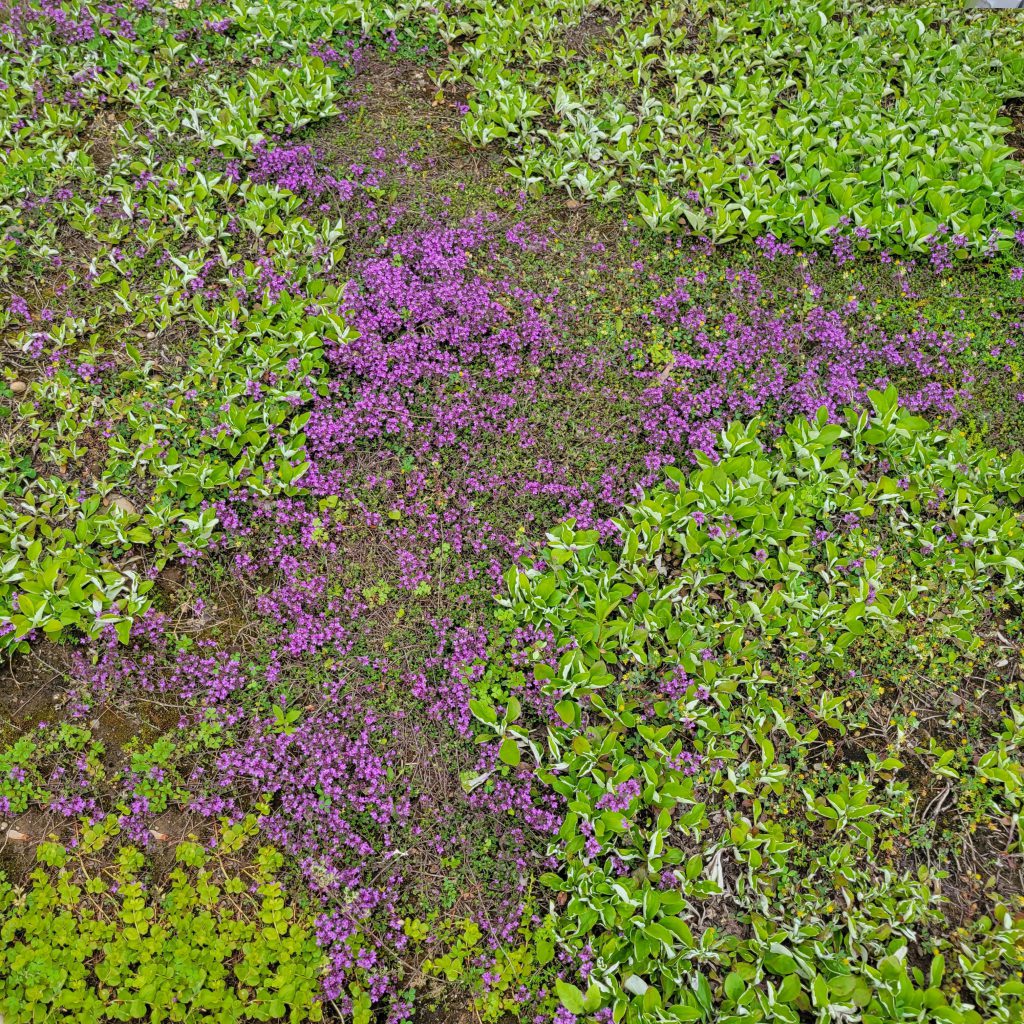 Here, in these frequently walked-on beds beaten (pretty mercilessly) by the sun, THYMES are the hero. Not only are they at home in the hot sandy environment but — ruffle them — and the air becomes slightly floral-leathery-a-little-woody-smelling (a pleasant aroma to humans/unpleasant to mosquitos.) 
 List of plants
THYMES: elfin, mother of, red, goldenseal, frost
FIELD PUSSYTOE that is sometimes growing close to MOUSE-EAR HAWKWEED (we think feels biblical — if you say "lies down with" instead of "growing close to.")
CREEPING JENNY
VIOLETS
STAR OF BETHLEHEM
RUPTUREWORT and DUTCH CLOVER have migrated from the open lawns.
Open Lawns
Intended plants
They're there - the plants we sowed. DUTCH CLOVER and RUPTUREWORT.  It is now a matter of what we call monkey work.  Combing through the plant hairs looking for little unwanteds. When we want to elevate the activity, we refer to it as Zen.
tinyFlower Mound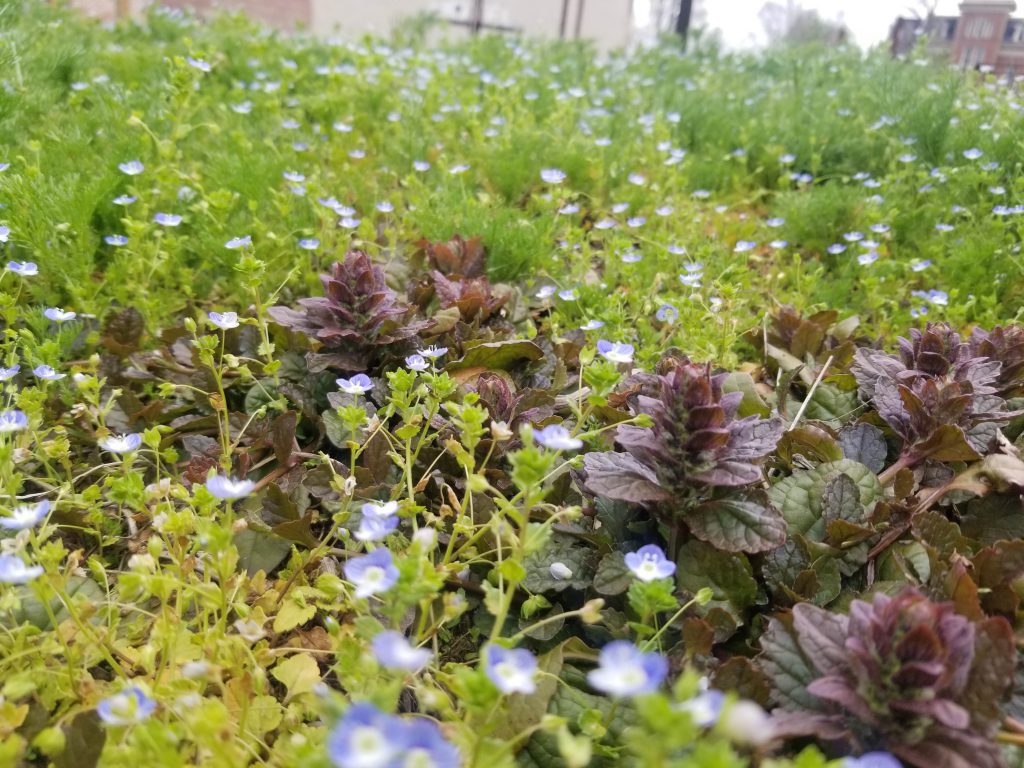 Suggestions for use —
This is a lush spot in the early spring open to the full warming of the sun. We suggest bringing your little people out to play in the adjacent sandbox while you lay back, look at the sky and smell the chamomile. 
First to flower — SLENDER SPEEDWELL — a fine downy ground cover with delicate blue blooms. Though wispy, it is a vigorous spreader.  
From underneath this bushy ground cover of SLENDER SPEEDWELL — feathery, darker green stalks of ROMAN CHAMOMILE push up. Chamomile is an apple-sweet smelling herb with little daisy-like blossoms — calming and anti-inflammatory (for humans), a natural antifungal (for companion plants) — a gift of the sun god Ra.  At least the ancient Egyptians thought so. Chamomile has long been used as an earth-friendly lawn substitute in England. 
Two varieties of AJUGA — Chocolate Chip and Burgundy — offer a contrast in color and muscularity with their showy purple flowering spikes (May-June) and fleshy, red-wine colored leaves. A mat forming plant, they take center stage on this mound through the summer and into the fall.
Though it was not an intentional solution, the introduction of Chamomile onto the tinyFlower Mound solved a fungal/crown rot problem that was an early plague on the Ajuga.
Pussytoes Mound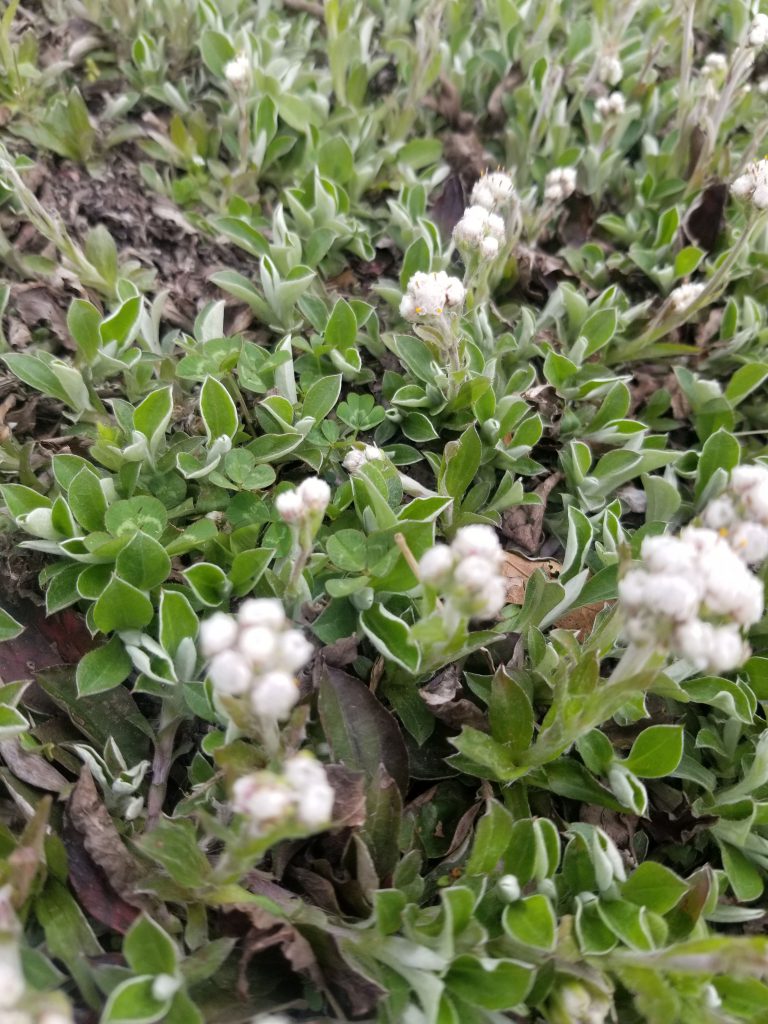 Things to love and look for when you visit the PUSSYTOES antennaria neglecta MOUND.
The neglecta part of its latin name.

The year round silky green tops and silver gray-green undersides of the spoon-shaped leaves.  

From April to June the narrow 6" stalks are topped by miniature white flower clusters. In bud, the clusters resemble a cat's paw. How sweet. Cat's paws to pussytoes.

Once in blossom, the male flowers with their yellow orange stamen poking out all over the place look more like tiny white pin cushions. Or  "white-iced cupcake[s] covered with birthday candles,"  says Mary Anne Borge. She has beautiful close-up photos on her blog post Pussytoes and Butterflies

Individual Pussytoes plants have either male or female flowers. Female flowers look like little pom poms, and according to Backyard Butterflies they look soft enough to pet like pussywillows. 

American Lady butterflies specialize on Pussytoes and other members of the Aster family as food for their caterpillars.
In addition, on the PUSSYTOES MOUND, you can find Antennaria Neglecta throughout the IRREGULAR PLANES in the front of the artPARK. Some of the Pussytoes, amusingly, are planted close to Mouse-Ear . 
Future Caterpillar Meadow
All of our plantings hug the ground.  We're thinking of this meadow as a chance to get tall.
Tetrahedron
If you look closely you'll find the odd, intentionally planted WILD STRAWBERRY and CREEPING JENNY. Rigorous as it is, RUPTUREWORT has managed to migrate from the OPEN LAWNS and establish a nice, albeit small, patch on the east side of the TETRAHEDRON MOUND. 
Trees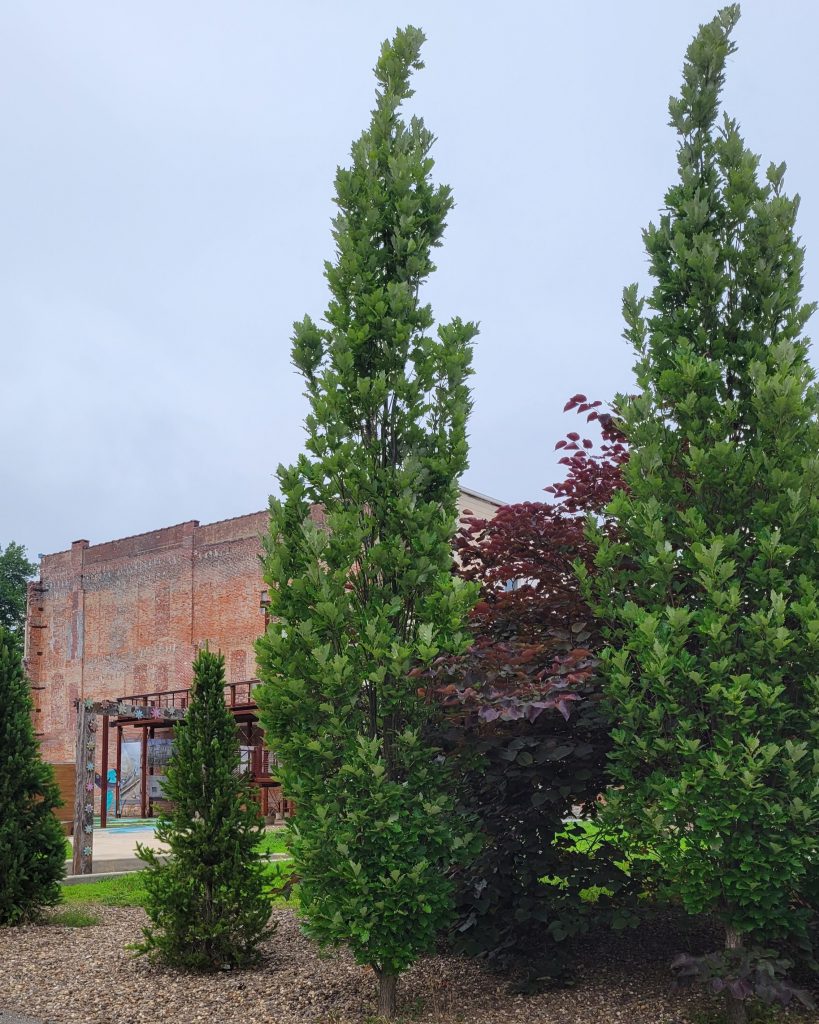 Our screen-of-trees blocks the alley which was never meant to be seen from Main Street and shields the artPARK from the southwest winds.
List of trees
CUPRESSINA NORWAY SPRUCE, FOREST PANSY REDBUD, COLUMNAR OAK, SEVEN SONS TREE
And all alone
A CAMPERDOWN ELM sits in the future CATERPILLAR MEADOW. It promises shade when it grows up.