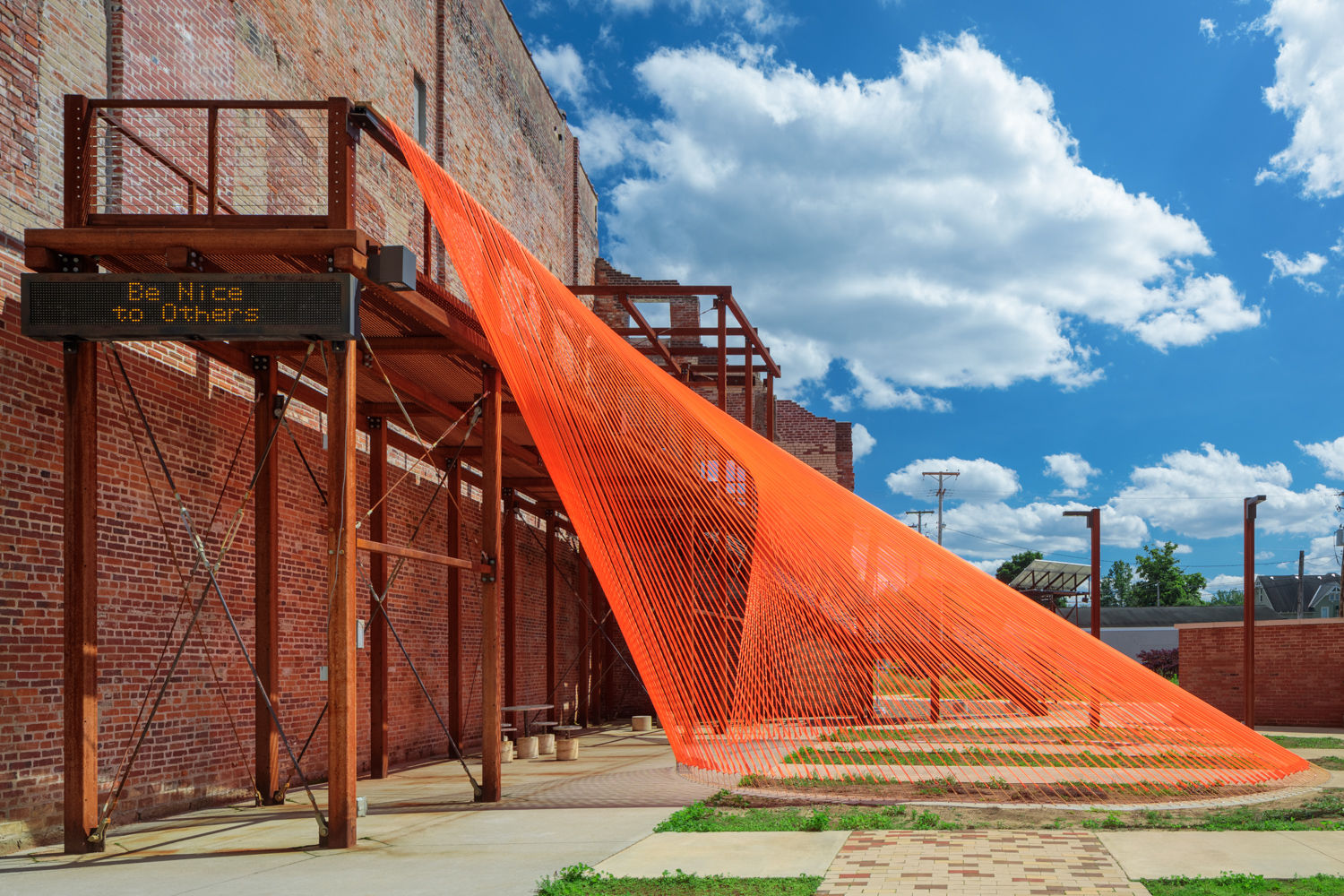 People are excited and making an effort to get out of their cars to come into the park. They are curious and asking, in a good sense, "What is this orange thing?"

Answer: MEETING ROOM 1. Behin Ha's "Coshocton Ray Trace." It's a community-built temporary pavilion in the artPARK where community groups, families and friends can meet from June – October, 2019. The installation uses scrap polypropylene mesh from Snyder Manufacturing to create an unexpected point of attraction in the center of town The project was funded by an Ohio Arts Council ArtsNext grant and the Pomerene Center Community Arts Fund at the Coshocton Foundation.

A little history—
The original drawings of the artPARK designed in 2014 by Tim Franks,* Atlanta Georgia included a shade structure.

By the time we were ready to think through the engineering of this component and the sourcing of the materials, we were out of money and stamina. Happily, Vamos Architects via Root Ball Park, had previously introduced us to the world of temporary pavilions and we began watching, specifically the annual Figment: City of Dreams competition on Governors Island.*

THE CASE for TEMPORARY
As is nationally the case in our world of rapid change — attention spans are short.
People don't mess with things early on. The longer something stands the more vulnerable it is to vandalism.
Permanent public art is a controversial thing. When you understand that something is temporary and that you don't have to live with it forever, you can look at it in a more relaxed way.
Temporary makes room for something new. Something new feels like progress. Temporary public art keeps life interesting.
We introduced the concept of a Temporary Pavilion to the community at the Coshocton County Fair in the fall of 2018 by asking fairgoers to vote on their favorite of 3 designs — all of them were finalists or winners of the City of Dreams competition. The winner of our Coshocton contest was Behin Ha's Living Pavilion.
In our first conversations, Behrang Behin indicated that he and his wife Ann thought their firm should design a pavilion specifically for the artPARK.  They didn't think the living pavilion in its Governor's Island iteration would sit well in our park and they doubted in the end if it would be affordable. We were disappointed but listened and started thinking of alternate affordable zero impact materials available to us through our deep ties with local industry. Our first suggestion were trimmings from a Mineral Fiber Manufacturing product called Peel & Seal—seemingly unending 3/4" wide strips of aluminum laminated waste.  This material though stunning proved to be too heavy and unable to hold tension over time. A quick call to Snyder Manufacturing whom we had worked with on the Root Ball Park verified they too had trimming waste from their hundreds of yards long rolls of polypropylene mesh.  This became our material of choice.

In April Behrang Behin came to Coshocton with his drawings to present his and his wife's concept for the pavilion — stringing close to 200, 1.5'-2" mesh "ribbons" from the 20' high gallery railing to the ground— from a 52' long straight line to a circle with a 14' radius.

A small community group gathered to hear the ideas and then go out into the artPARK to place a few test ribbons. Would they twist in ways he and his wife Ann had expected? Would the bungee anchors they designed serve to hold 20lbs of tension? Would assembly be simple enough the community could join in the build? Yes. Yes. And yes.
Our test material was blue but Behrang had stopped at Snyder on his way to Coshocton from the Akron Canton Airport and picked up samples of rocket red which was, when looking at swatches on the internet, the color of choice. In real life, it was shockingly bright and made us timid, fearing the color would scream danger zone and that the pavilion might look like a huge orange traffic cone. Our worries were allayed by the very visceral reaction of one of the workshop attendees — "I love this color!"
Here's the orange.
During building in the heat & sun, the neatly spooled material unraveled — worse than any yarn tangle you can imagine — and the rocket red orange began playing tricks on our eyes in the form of vivid blue-green afterimages. You can do your own experiment at home by following the directions here. So sorry Coshocton Regional Medical Center Teams 1 & 2 for all the discomfort. But we're ahead of the story…
The build —
Behrang returned to Coshocton on Thursday, May 30th for the build. Kenney's Restoration Remodeling and brothers John, Keith and Mike Sharrock had prepared the infrastructure according to design. Crozier Welding cut a heavy steel die with CNC routed holes to ensure precise placement for drilling into the concrete. For all the sturdiness of our steel gallery, we had to reinforce the railing to support the 4,000 lbs of pull the 194 (exact count) mesh ribbons would exert.

Friday, May 31, the first teams from OSU Extension and United Way of Coshocton County arrived at 8am as the fog lifted. Carefully the middle bungie anchor was selected and the first ribbon stretched.

Tensioning is done to the prescribed 20 lbs of pull using Behrang's luggage scale and our fish scale purchased at Rural King. Caption — technology bridges the rural/urban divide?
The ribbons are installed with little effort until the morning of Saturday, June 1. Team Hasseman Marketing is on site when the structure begins to fold back on itself and the angles and twists get tricky. This however does not slow things down much and Coshocton Ray Trace is completed ahead of schedule.

Susan Byrnes our 2017-18 CHS ART CONNECTS artist was back in town conducting an Arts Integration workshop for elementary teachers. She had this to say "When I go somewhere I'm interested in finding the surprising. The artPARK and new MEETING ROOM are definitely unexpected."
* Tim Franks was introduced to us by Atlanta Architect and Coshocton Native Travis Ridenbaugh. At the time we invited Travis to work with us on the design of the artPARK.he was just starting his family and professional practice. Wanting to be helpful, he suggested his friend and mentor.

* Figment moved to Roosevelt Island in 2019.

First Conversations with Behrang Behin about what we thought was about

* Tim Franks was introduced to us by Atlanta Architect and Coshocton Native Travis Ridenbaugh. At the time Travis was just starting his family and professional practice when we invited him to become involved in the design of the artPARK. Wanting to be helpful, he suggested his friend and mentor.