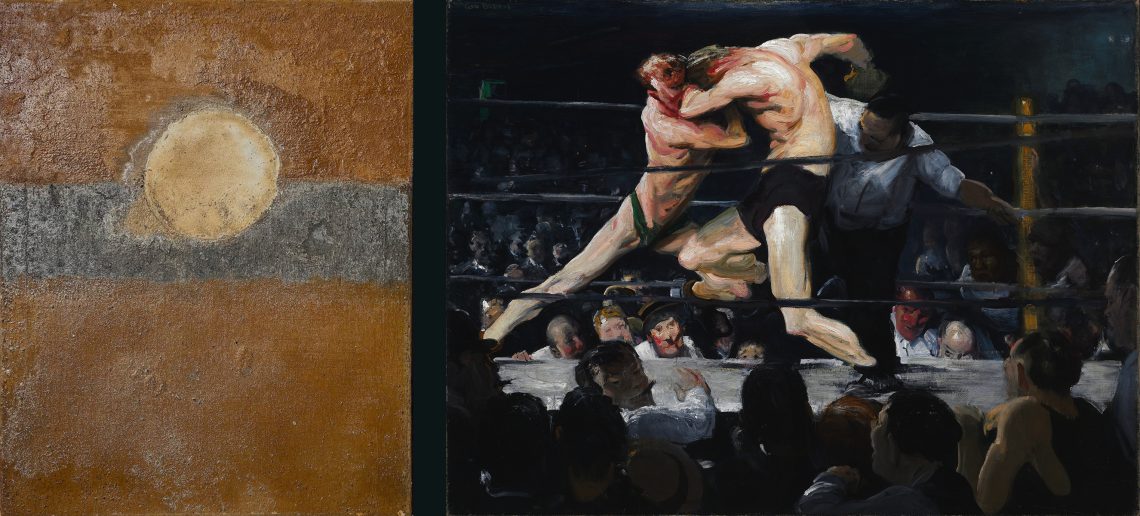 TWILIGHT OF THE IDOLS, P. Wolfgang | STAG AT SHARKEY'S, George Bellows, Courtesy of the Cleveland Museum of Art
sept. – oct. 2023
PETER WOLFGANG
works that pulse with light and hope
GEORGE BELLOWS
boxing paintings and lithographs
TOGETHER for National Recovery Month
a powerful metaphor of the fight for recovery
---
From his parsonage studio Peter Wolfgang transforms what appears to be spent and useless material— ash, rust, clay, dirt…into something spiritual on canvas. By applying and sealing layer upon layer of these 'dead' materials — alternately rubbing and scouring to expose what lies beneath — he renders works that pulse with light and hope.
We're pairing Peter's abstract canvases with large banner reproductions of boxing paintings and lithographs by Columbus-born artist George Bellows (1882-1925) — images courtesy of the Cleveland Museum of Art.
September is National Recovery Month. Peter's art — exhibited in the ITM windows 331 Main Street —speaks to the hope of recovery. Bellows' work — in the artPARK next door — speaks of intense struggle. He claimed, "I don't know anything about boxing. I am just painting two men trying to kill each other." Life & death/drug vs. human — we think this is a powerful metaphor.
Our Coshocton County high overdose numbers and low life-expectancy rates put us in the bottom quartile of Ohio's counties in terms of community health. These numbers are cause for great concern and call us into community conversation.
Partnering with Riverside Recovery Services and Coshocton Behavioral Health Choices, Peter will be in the artPARK making a public piece of art and engaging in just such conversations 4 times in September.
Anyone interested in joining him is invited, whether you are a person impacted by addiction — in recovery, in remission, a family member or friend of — or without personal experience but concerned — or simply interested in making a community piece of artwork with Peter using his materials and processes. The piece will be displayed in the artPARK through its creation in September and as a finished piece through October.
Artmaking and community conversation sessions in the artPARK with artist Peter Wolfgang please follow Pomerene Center for the Arts on Facebook or Instagram to keep up with new information:
Friday Sept 8, 1-4p
Thursday Sept 14, 8:30-11:30a 
TBD
TBD
Peter Wolfgang (b.1981) returned to Coshocton in 2021 after decades away in New York City, Stockholm, & Los Angeles. He is now living and working in the village of Conesville, Ohio as an artist and Methodist pastor.
George Bellows (b.1882 Columbus Ohio, d.1925) was an American realist painter, known for his bold depictions of urban life in New York City.