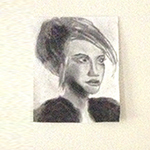 DAUGHTER, MOTHER  3/1 – 4/27,  2013. A first time showing of the work of Megan and Marsha Tyhurst. Opening Friday, March 1
Daughter:
Megan Tyhurst wants to be an author and illustrator.  She has finished her first book and is in the process of  working on her own illustrations for it. Her favorite medium to draw with is graphite. Though Megan finds inspiration visually through  books and photographs,  she rarely draws from a  photograph.  Rather she works from her imagination or from life. Megan is an 8th grader at River View Junior High.
Mother:
Marsha Tyhurst's  inspiration comes from animals. Painting in acrylics, she enjoys making them come alive on her canvas or unconventional surfaces. Norman Rockwell is her favorite artist and she has always looked up to him as an inspiring painter. Marsha is a mother of two, and has been painting since she was sixteen years old. Recently, she decided she wanted to get out there and let the world see her paintings.