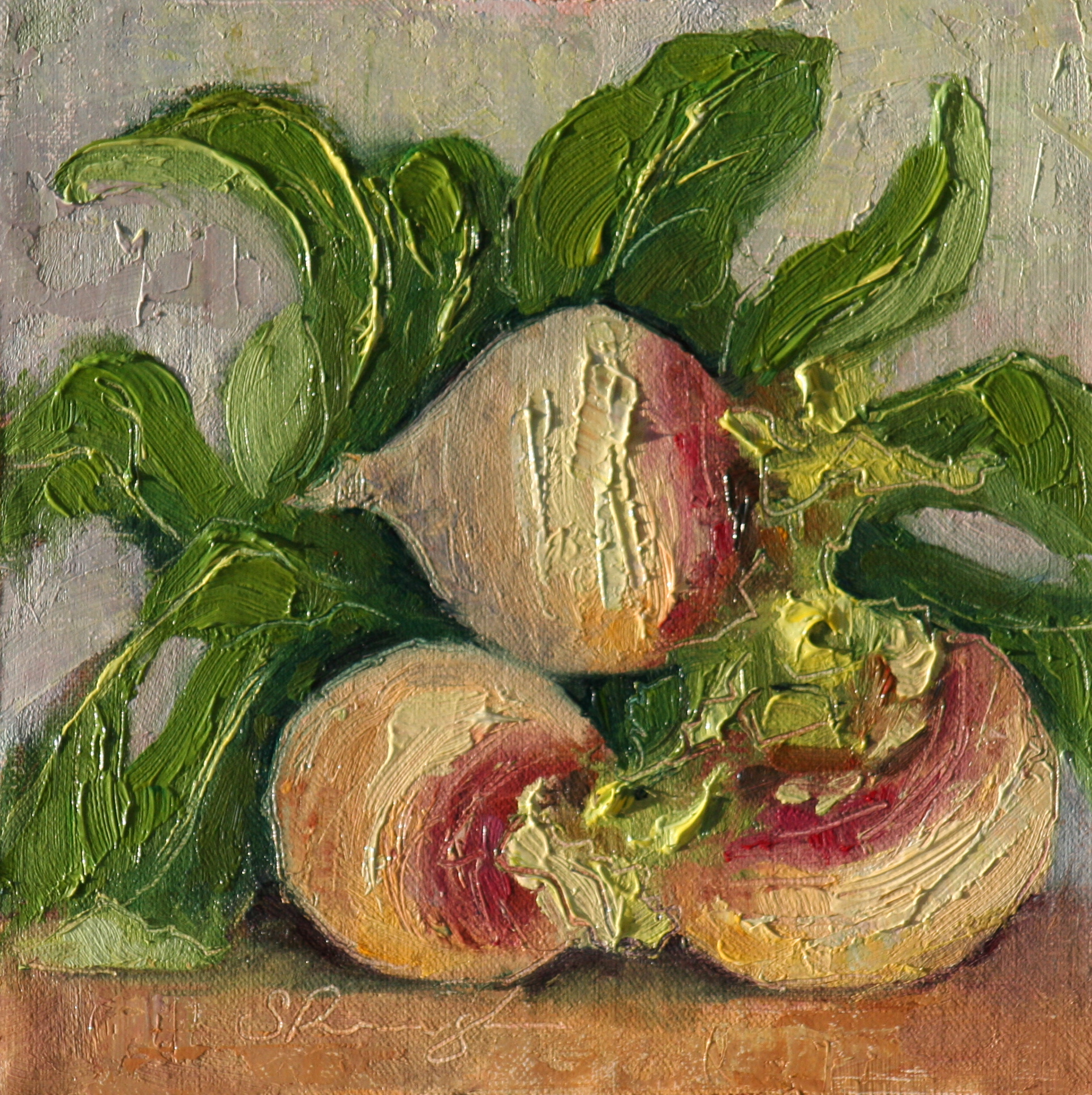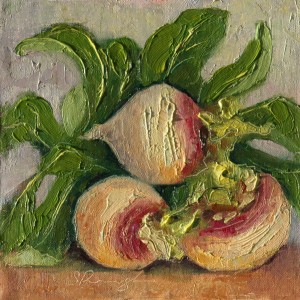 Local Produce  10/07 – 11/10,  2012 
paintings by Stephanie Revennaugh
Opening Party Sunday, October 7, 2-4pm
"Starting in Februay 2012,  I painted produce from Montana (my home) and Arizona (where I wintered) as well as packages of produce sent to me from Ohio.
The aim of the show is to promote local produce and the Slow Food movement. These paintings raise awareness of the importance of consuming whole foods while supporting local farmers. Nourishing the body with fresh local produce is essential to health, fights disease, stimulates the local economy and just tastes better! With minimal effort these benefits can be enjoyed by visiting a local farmers market or stores such as Local Bounty in Coshocton.
In 2001 Coshocton native Megan Lightell introduced me to the joy of oil painting. In 2008 painting became a serious pursuit as I determined to make a career as an artist. Sculpture has become my main focus, however I continue to study painting as they inform one another. I am influenced by my teachers Don Sahli, Kim English & Rod Zullo as well as such masters as Sargent, Sorolla, George Inness, Edgar Payne, Richard Schmid, George Carlson, Rembrant Bugatti & Dylan Lewis.
Nationally known painter Carol Marine is my inspiration for the miniature still life. These small studies allow exploration of design and technique in a controlled environment without a major commitment to time and materials. The motif is set up in a shadowbox where I control the light. I have learned to spend an increasing amount of time on the set up of the composition and to simplify to a few masses & values (how light or dark something is). With a strong light source the shadows become an important and interesting element of the painting. Incorporating the textures of glass, metal and fabric adds interest and veracity to the piece and are extra fun to paint.
Exploring color harmonies is achieved by choosing a subject such as a red pepper then finding complimentary veggies, like green beans, and/or analogous color props, i.e. a copper pot (orange being a related color to red). Colored paper may also be used as a backdrop or "table cloth". My eyes are increasingly becoming sensitive to subtlties in color changes. All of this greatly assists when painting in plein air (landscape painting outdoors) and when doing larger studio works."  Stephanie Revennaugh