The Saturday Giant on Friday 2/6
The Saturday Giant
Friday, Feb. 6, 7pm 
@ the Pomerene Center for the Arts
Suggested donation $10
Reserve seats for you and your friends | 740.622.0326 or pomerenearts@gmail.com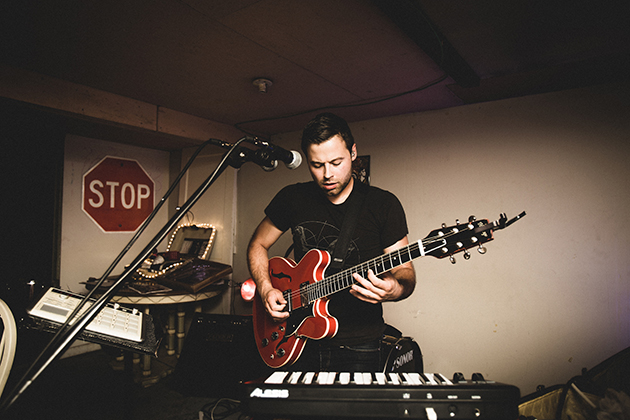 Ask any musician–putting a band together, keeping a band together…very hard..unless you happen to be able to do the one-man band thing.  Phil Cogley, aka The Saturday Giant, is THE one-man art-rock band from Columbus Ohio And he's coming to the Pomerene Friday 2/6 to play the February 2015 Rent Party.
Here's the description of what you can expect: innovative and compelling original music built–sound layer on top of sound layer–guitars, drums, bass lines, beat boxing, keyboards, vocals–all played live, recorded and looped (no prerecorded samples).  listen
check out where else The Saturday Giant is going to play this winter and spring 
watch this video (it's an equipment advert) but will give you an idea about how The Saturday Giant makes his music
WHAT IS A RENT PARTY? At the time of the Great Migration north (1910-1930), blacks emigrating from the south settled the problem of Harlem's inflated rents by throwing parties. Furniture was moved to the outside walls, musicians and refreshments were brought in, card tables were set up out of the way of the dance floor, and the doors were opened in exchange for a few bucks.
In an effort to relieve stress on our monthly budget, the Pomerene Center has adopted/adapted the Rent Party to help meet our monthly gas bill. YES! We open our doors at 6:45pm on First Friday evenings, October-April and present great acoustic music– great times (especially if you bring your friends!) –surrounded by great art. Suggested donation $10 at the door.  Make your reservation by contacting us @  740.622.0326 or pomerenearts@gmail.com