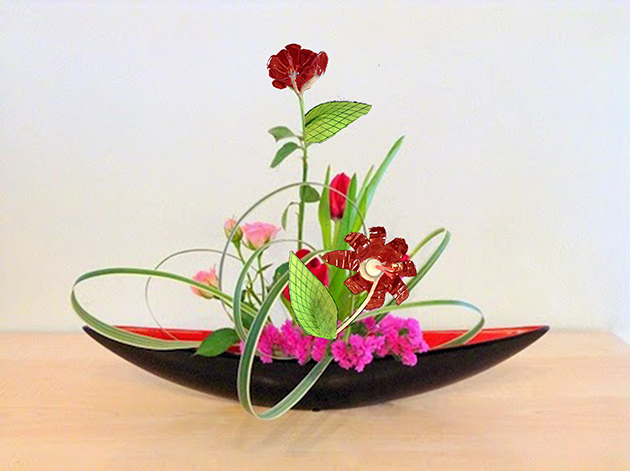 Ed has class Anne has funk–ikebana style
Tuesday, February 10, 6:30-8pm
@ the Pomerene Center
Limit : 14 people
$20 proceeds benefit the Pomerene Center for the Arts.
Registration required.
You can register by 1.calling the Pomerene @ 740.622.0326 or Kiefer's @ 740-622-3993 2. emailing us pomerenearts@gmail.com  3. clicking the buy now button below–we'll email you your registration confirmation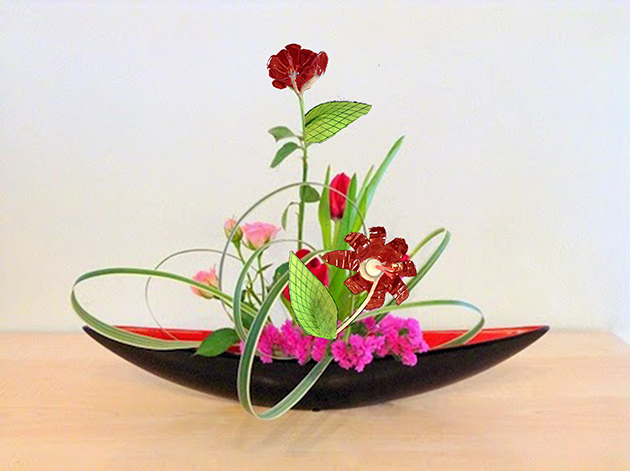 Announcing another annual Ed Has Class, Anne Has Funk flower arranging evening–this year we're playing around with Ikebana. A cautionary word–expect a funkified (i.e. recycled materials in addition to natural material) Ikebana experience.
Ikebana or Kado is the beautiful, distinctive Japanese flower arrangement art based on the interrelationship between Heaven, humankind and earth. It's a triangle

Ed Kiefer is supplying the containers, flowers and natural materials. Anne Cornell is gathering an assortment of found objects. Together they will design a valentine centerpiece "on stage." For the second part of the evening, the materials will be turned over to the audience. Everyone will leave with their own ikebana centerpiece. It's our hope to exhibit the finished arrangements at the Chocolate Extravaganza February 14th for the whole community to see.
Want to try your hand at Japanese Ikebana in this mixed media fashion? You can register by 1.calling the Pomerene @ 740.622.0326 or Kiefer's @ 740-622-3993 2. emailing us pomerenearts@gmail.com  3. clicking the buy now button below–we'll email you your registration confirmation
p.s. Bring  your own beverage and any found objects you might want to use as embellishment. In addition to having a full compliment of supplies on hand, we'll provide cups and napkins .
"Keeping life interesting in Coshocton County through creativity and arts innovation."