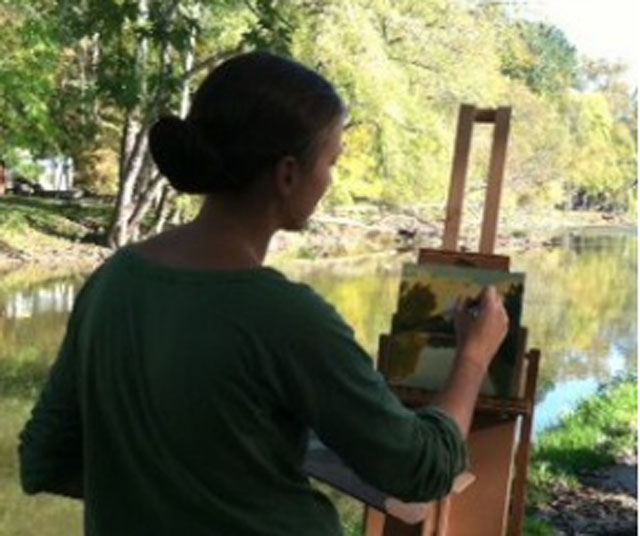 PLEIN AIR LANDSCAPE PAINTING WORKSHOP with Megan Lightell May 26, 2012 | $100
Presented by Artist Friends of the Pomerene
Limit :12 students.  Registration required. Deadline for registration is May 12,  2012.
Join contemporary landscape painter Megan Lightell for a day of painting in the vineyards of her home county of Coshocton, Ohio. Work will be done in the studio and en plein air to explore a variety of approaches to the landscape in oil. (Participants can choose to work in pastel or acrylic.) Emphasis will be on color theory, composition, value, and paint handling as artists work on multiple sketches and complete a finished landscape piece over the course of the day.
Painting sites are easily accessible without rigorous walking. Previous experience painting out of doors is not required.
register online, download registration form, supply list
Inquiry or Questions: Phone Pomerene Center 740 622 0362 or email pomerenearts@gmail.com
SCHEDULE 8:00-11:30am Meet in the shelter at Raven's Glenn Winery for an overview of the day. We'll be in the vineyards painting by 8:30. Participants can expect to complete 1-2 painted sketches on site.
11:30-12:30 Lunch as a group at Raven's Glenn Winery (not included in workshop price) view menu 1:00-3:30pm in-studio demo and painting session working from reference. We've reserved a large open room at the winery.3:30-6:00pm Late afternoon plein-air session along the river behind the winery.
Artist's Statement I began painting landscapes out of a longing to return to the comfort, mystery, and silence embodied in the land I knew as a child.  I have alternately found myself living in urban and rural settings, but regardless of my surroundings I am compelled to paint land, either as a reflection of my environment or as a depiction of a memory.  more