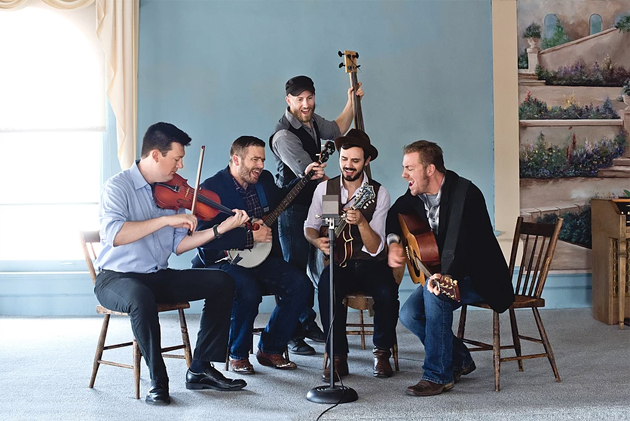 FAMILY FUN, MUSIC & ARTMAKING-2018
FAMILY FUN, MUSIC & ARTMAKING = great music and lots of fun. Come-as-you-are, kick back and spend a free-&-easy-time with your family, friends and neighbors and go-when-you're-ready.  We'll have art supplies out and ready.
When—WEDNESDAYS June 27, July 11 & 18 @ 6pm.  IT'S FREE though we'll pass the hat.
Where—The artPARK, 325 Main Street with a view of the Coshocton County Court Square. There's always shade in the evening and almost always a cooling breeze after the heat of the day—in other words, small town summer perfection. Rain site under the tent at the Pomerene Center for the Arts, 317 Mulberry Street.
June 27 THE WAYFARERS – American Roots Music
Hailing from rural Southeast Ohio, The Wayfarers emerged onto the scene in early 2010 playing their own form of American Roots music. People of all ages will be drawn in to the sounds of thumping washtub bass, driving guitars, sawing fiddles, and rich harmonies. Always wanted to learn to square dance?  This may be your chance.
Hailing from rural Southeast Ohio,
The Wayfarers
emerged onto the scene in early 2010 playing their own form of American Roots music. With old-time radio shows setting the example, their style encompasses Appalachian dance music, traditional mountain fiddle tunes, and pre-bluegrass music of the 1920's – resulting in a dose of nostalgic Americana.  Whether it's at a large festival or barn square dance, a rock venue or a busy street corner, The Wayfarers continue to carry this music forward with creativity and authenticity, making it contemporary and fun
July 11 SOGBETY DIOMANDE – West African Drumming and Dancing
Get a glimpse of the Ivory Coast and West Africa through drumming and dance, colorful costumes, musical instruments, rhythms and songs.  He is fast becoming a favorite here in Coshocton. His interactive  performance is sure to engage and delight all audiences!
Sogbety Diomande  was born in the village of Toufinga, a small farming community located in the Northwest region of the Ivory Coast near the border of Guinea in Africa.  He started his career as a drummer and dancer at a very early age.
Sogbety moved to North America permanently in December of 1997 and found his niche in New York City.
During the Spring and Summer of 2000 Sogbety was featured as the lead djembe drummer on cult legend Jimmy Buffett's No Passport Required tour.
For most of 2001 Sogbety was a resident artist at Disney World in Orlando, Florida. There he performed at Harambe African Village with Kobake, an impressive Ivoirenne quartet.  Sogbety started his own troupe in 2005.   spends most of his time in Ohio doing drumming residencies and performances for schools, libraries, correctional facilities and festivals.  In 2008 he gathered together a troupe of 10 talented musicians and dancers to headline the Lotus World Music Festival in Bloomington, IN.  
July 18 Eric (the Fish) Paton – Japanese Taiko Drumming
Loud, hard and fast…whole-body drumming—think musical Japanese martial arts.  Taiko drums are big and range in size from snare drum, to wine barrel, to as big as a small car, though you shouldn't expect car sized drums at this performance. This ancient Japanese art started as a military form, found its way into religious ceremonies and is now practiced as a choreographed performance art.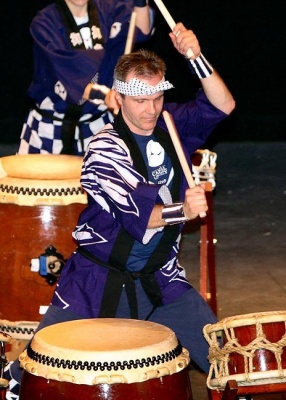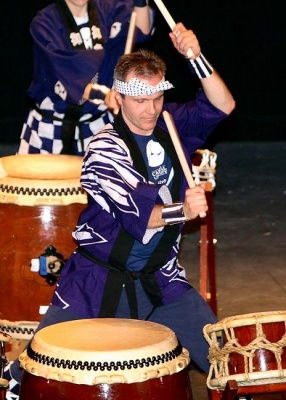 Eric Paton is a musician, performer, and educator specializing in percussion from around the world. From the dynamic style of taiko drumming of Japan to the infectious rhythms of samba from Brazil, Paton infuses excitement and interaction into his teaching and highly participatory performances.Paton has been a member of the Capital University faculty in Columbus, Ohio since 1990, where he has taught percussion, conducted the Concert Percussion Ensemble, and founded the Ethnic Percussion Ensemble, a student performance ensemble that features the music of Cuba, Haiti, and Japan.