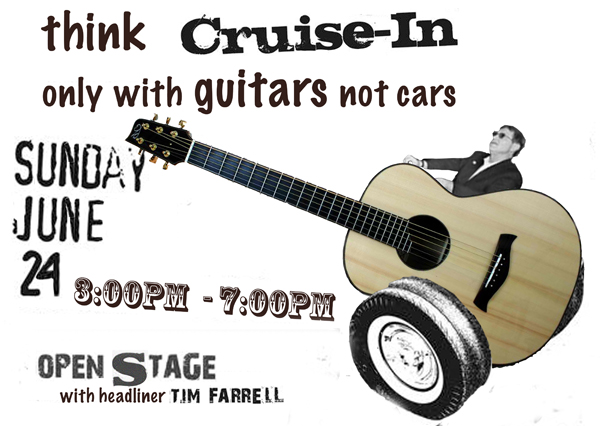 Guitarist Tim Farrell is on tour showing off his new Custom Signature Guitar built by Paul Woolson and we've invited him to play on the Pomerene Center Saba Terrace at 6pm, Sunday June 24th, 2012.
Coshocton has a rich guitar culture that includes many exceptional musicians, collectors and the internationally known Wildwood Music. Why should Tim be the only one showing off guitars?
As a sort of transmutation of the Cruise-In, the Pomerene Center for the Arts is hosting the world's first (as far as we know) Guitar-In.

Below is the schedule for the day: (Sportzone will be out grilling chicken, ribs, corn starting at 3:30pm)
12:45-2:45 workshop with Tim Farrell (cost $25, registration required)
3:00-4:30- We'll open the doors to the public ($2 donation suggested entrance fee) Local collectors will display guitars, be on hand to talk guitar shop and cut a few riffs to demonstrate what their instruments can do.
4:30-5:30- Open Stage by invitation
6:00-7:00- Tim Farrell performance (seats under the tent can be reserved by phone 740.622.0326 or by email pomerenearts@gmail.com, suggested donation $10)


"Keeping life interesting in Coshocton County through creativity and arts innovation."
Tags: accoustic guitar, fingerstyle guitar, guitar show, Tim Farrell