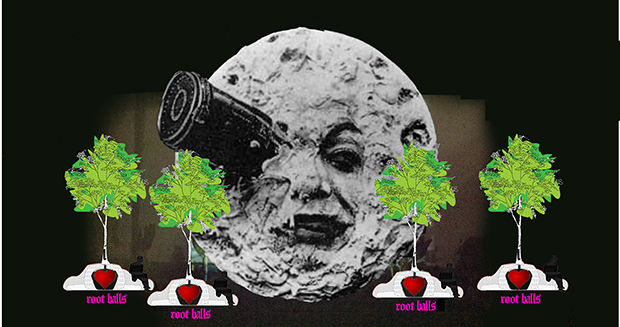 parties under the root ball trees
In the PARK space
325 Main Street, Coshocton
Thursdays July 11-August 13, 9pm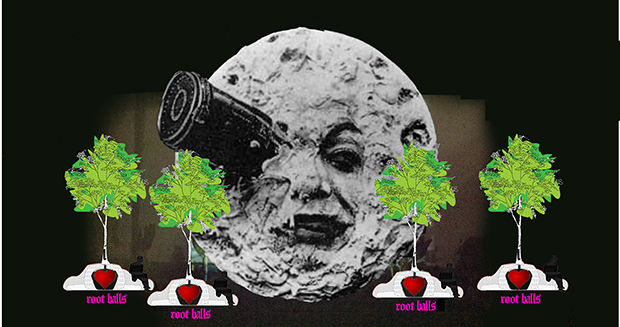 moon in this graphic is from "La Voyage dans la Lune" 
UNDER THE ROOT BALL TREES. Or call them "Turn Out Coshocton Parties."  Whatever, they're free and we hope we turn out the town. Bring your blanket or sit on a root ball. Settle in. Or come and go as you please.
July 18, 2013
MUSIC VIDEOS BIG ON THE WALL
We found some pretty amazing music videos. Come see them big on the PARK wall.
July 25, 2013
NIGHT OF THE LIVING DEAD (movie)
Funny movie + ur txt msgs = funnier movie.  Not that "Night of the Living Dead" was made to be funny.  But 45 years later with your comments displayed on the movie screen, it should be hilarious. Don't forget your phone.
August 1, 2013
GLOW & DANCE PARTY
You've got to come to pre-party (see below) to make your costume and decorate the root ball trees (everything fluorescent).  We'll turn on the black lights at dark and glow. And since it's a dance party, we'll dance.
August 8, 2013
SAY HELLO TO THE MOON NIGHT
Back to the music video–Queen, Air, Smashing Pumpkins all used footage from one of the first science fiction films ever, the 1902 b&w "La Voyage Dans la Lune" by the Méliès Brothers. We'll watch the music videos as well as the original film.
August 15, 2013
HUGO (movie)
A Martin Scorsese film about George Méliès (see Aug 8 info above)
Pre-party starts at 8pm. Play in the sand with our japanese sand rake. Dig with our horse excavator. Exchange a few words with our very own talk show host Dominic Shaffer. We'll be selling snow cones, popcorn & pizza or bring your own snacks and drinks.
Root Ball Park is a gift of Sheehan Pipeline Construction Co.