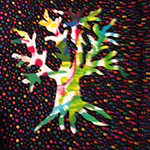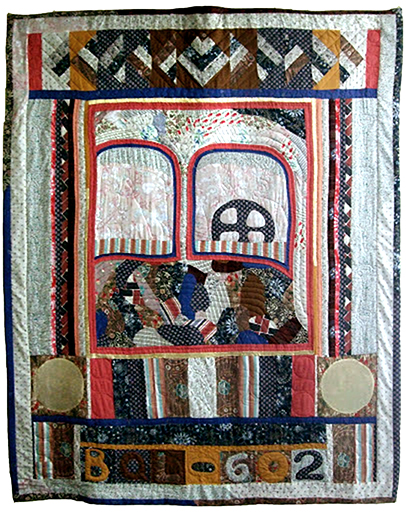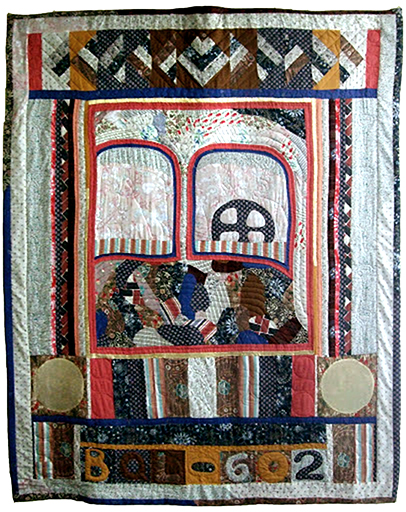 Jo Rice Art Quilts
opening  Sun. July 14, 2-4pm
runs through Aug. 11
In the sense that this exhibit is a survey of Jo Rice's art quilts reaching back to 1980, we can call it a retrospective. Considering that two months after we started planning the exhibit in Jan. 2013, J. Rice sent an email with the subject line "I can still cut trees," (indicating she was creating an extended series of small tree quilts)… this exhibit is not exclusively a retrospective look backward but rather, a look at a continued and growing body of her work.
For a woman who declined to make a square in 1976 for a bicentennial community quilt because she "did not want to sit around all day and quilt,"   this is what Jo Rice has become, a Knox County woman who sits around all day, year after year, making beautiful quilted works of art.
Artist Statement
I started my art career at a spinning wheel and a weaving loom.  That experience enabled me to learn the basics of texture, pattern, and elements of design.  Quilting as a medium came later.
After brief experience in creating variations on traditional quilts, it became clear that I was most comfortable in, and satisfied by, intuitive experimentation with a range of media with few constraints on form and color.
Color is now the foundation of my work.  It is derived from many sources.  Colored fabric, thread, paper, and paint are integrated into each work.  I begin my pieces by selecting materials from piles of fabric of varied colors, textures, and designs, and almost as many varieties of threads and paint.
 The final product is achieved by moment by moment intuitive impressions, trial and error, and an artistic "bell" that goes off when a work is done.
Beauty, happiness, and humor are what I hope viewers will see in my work.  There is no doubt that I can express these because of the joy I derive from being Mom and Grandmother (They call me "JoJo").
Jo Rice
Gambier, OH