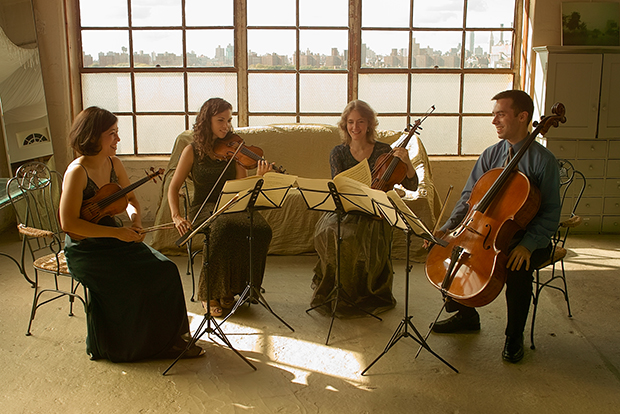 Benefit Concert at the Redhouse
Momenta Quartet at the Redhouse
Friday May 1 at 7pm.
Tickets $100, limit 40. Corporate Sponsorship $500.
Desserts, cheeses and fruits will be served. BYOBeverage.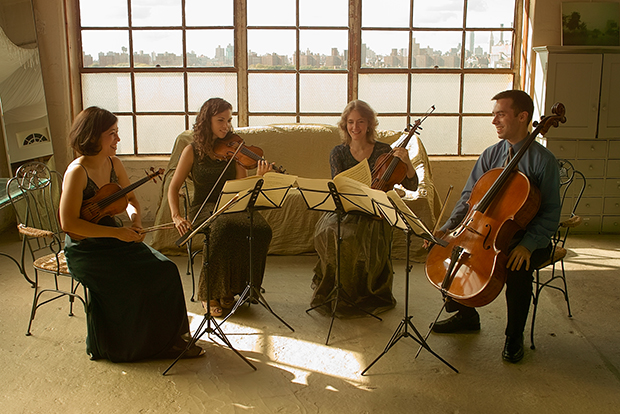 Kicking off the 30th annual Dogwood Festival "LINKED IN"…  Marion &  Tim Sutton will host a musical benefit evening at their Frank Lloyd Wright inspired home, the Redhouse, Friday May 1, 7pm. . This year's headline Festival entertainment is Momenta Quartet with violinist and Coshocton County native Adda Kridler.
Here's the program–
String Quartet No. 2 (1911-13) by Charles Ives–a musical story with unexpected cultural references that takes the listener on a journey through discussions, arguments, and a walk up a mountain.
Haydn's Quartet Opus 20 No. 1  According to -Alex Ross, The New Yorker (February 3, 2013) "The Momentas were at their most potent in Haydn's Quartet Opus 20 No. 1, applying opulent, sustained legato in the slow movement. Few American players assume Haydn's idioms with such ease."
If that is not recommendation enough, how about this?  "[Momenta] unleashed a veritable firestorm of intensity… inhabit[ing] every note in an impassioned reading that combined brilliant virtuosity with the utmost sympathy and unity of intent."  -Patrick Rucker, The Washington Post (January 11, 2015)
Tickets $100, limit 40. Corporate Sponsorship $500. Checks can be made payable to the Pomerene Center for the Arts, 317 Mulberry St, Coshocton, 43812  BYOBeverage. 
To reserve your tickets email pomerenearts@gmail.com or call 740.622.0326
Or purchase your tickets online below.
What will your ticket purchase or sponsorship benefit?
In addition to enjoying an exceptional evening, guests will have the feel-good of knowing their dollars  support two free community performances by the Quartet (listed below) and the Pomerene's revitalization work in downtown Coshocton.
Friday afternoon the quartet performs at River View High School
Saturday evening the quartet performs in the 300 block of Main Street with 40 North and the Walhonding Rube Band. Click here for more about this concert.
 You can read more about Momenta Quartet and listen to them here.