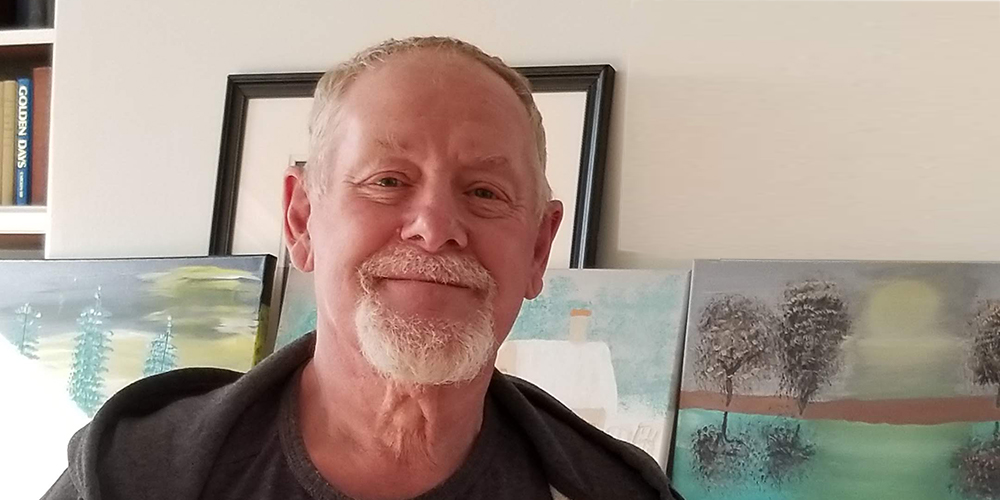 Opening conversation Sunday April 5, 2pm
Last August, Dave McCarty was diagnosed with colon cancer. In response, to distract himself and see himself through, he picked up a paint brush. The creative activity sustained him enough that he continues to paint a month plus after his last chemotherapy treatment in February.

To celebrate with him, Dave's wife Shelley McCarty and daughter Amber McCarty Lovett planned an exhibition of the art Dave painted over the course of his treatments. Like so many events this exhibit — scheduled for April 4th at Hopewell School where Dave is employed — was cancelled.

The Pomerene has stepped in to hang the show and share it virtually. We're sure Dave's story about how he found his way through a life altering diagnosis by tapping into his creativity is worth sharing, especially at this life altering time.

We'll be together with Dave and his family on Facebook live Sunday, April 5, 2pm. We invite you to join us to hear about Dave's Journey and look at his art. Donations accepted below via paypal. All proceeds benefit the Coshocton Animal Shelter. Please note that this donation is being made in honor of Dave. We'll let you know that we've received it and sent it on to the animal shelter.

---
---