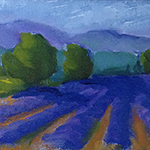 LANDSCAPES by Judith Speckman Russell opening as part of Dogwood Festival 2013, Thursday May 2 from 5:30-7pm. Runs through June 18.
see what else is going on during Dogwood Festival
My paintings are of things that I find beautiful and I try to convey that as best I can.
I was born in Coshocton and grew up there in the '40s and '50s. My name then was Judy Speckman–I am the daughter of Robert and Blanche Speckman. At fifteen I went to Concord Academy in Massachusetts, then I attended Bennington College in Vermont, and I graduated from Ohio State. I married Charles Russell, who is now a retired Professor of Nuclear Medicine. We lived in Washington, D.C.; Baltimore, Maryland; and Los Angeles, California; before settling in Birmingham, Alabama. We have two sons, Matthew and Owen, and two grandchildren.
In 1996 I started painting in acrylics, but I really wanted to paint in oils on boards and for that I needed a teacher. In 2001 I found my first teachers, Jim Smyth and Brigitte Curt and studied with them by taking workshops in California and Provence over a period of 7 years. For the past several years I have studied with John Lonergan in Birmingham, Alabama.
I have loved the out of doors since I was a child. Landscape is what speaks to me. I like to paint plein air, although I now more often paint from photographs. Maine is a favorite place–the light is particularly beautiful there. I spent many summers in Maine as a child, and for the last 25 years we have had a summer cabin there on the Kennebec River. We spend some time each summer on the Island of Monhegan. Recently I have started to paint portraits of my grandchildren.
Judith Speckman Russell
Also opening May 2,  BUILDING HOME/BUILDING HOPE