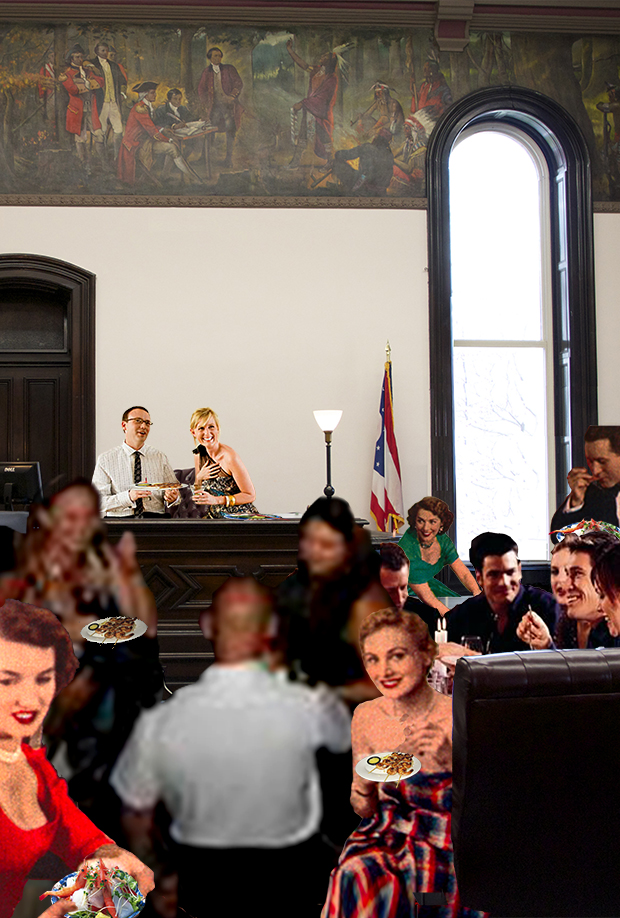 PROGRESSIVE GOURMET GALA DINNER following the Coshocton historic mural trail
Progressive Gourmet Gala Dinner, Saturday, May 4, 5:30-8pm
Venue: Starting @ Chase Bank
This is a Bring Your Own Beverage Event
$50. Reservations required. Purchase below or call 740.622.0326  or email pomerenearts@gmail.com 
see what else is going on during Dogwood Festival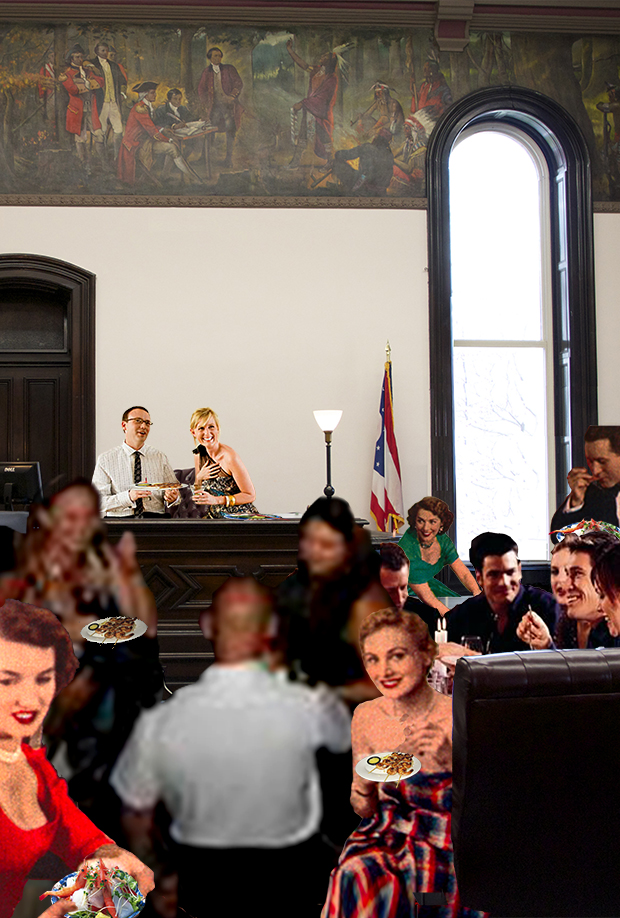 This little party highlights the Coshocton Historic Mural Trail, the culinary artistry of our local chefs, and the musicianship of Johnny Dotson. Just in case the above image is not enough to give you a picture of the party–here are some definitions:
PROGRESSIVE DINNER: An on-the-move dinner party where each course is eaten in a different place. You spend most of the party indoors (just in case the weather does not cooperate with appropriate springlike warmth and sun) but you get a chance to step out (just in case the weather does cooperate and it's a beautiful spring evening). Think of it as a dinner adventure.
GOURMET: Food worthy of a person with a discerning palate.
COSHOCTON HISTORIC MURAL TRAIL: Organized by Alice Hoover during Coshocton's bicentennial year. Thanks to Coshocton being the birthplace of the Advertising Art Industry, there are a set of significant inside murals throughout town. A bit of history–in the 1900's we boasted the second highest per capita population of artists east of the Mississippi.
JOHNNY DOTSON: Local Musician releasing two new CD's in time for Dogwood Festival. To give you an idea of his surprising musical depth, originally conceived as one CD, the recordings encompassed so much original work in so many genres, Johnny decided to split it in two.
We'll start at CHASE BANK for hors d'oeuvres by Bob McKenna (of Medbery Marketplace) enhanced by jazz guitar. The next stop, CENTRAL ELEMENTARY, features elemental foods. Chris Thomas (of Coshocton SportZone) will be serving up a gourmet transformation of hamburgers and tater tots in the form of prime rib sliders and potato gratin–there will be a chicken option as well. Rock & Roll baby before we hit the COSHOCTON COUNTY COURT HOUSE for the Blues and southern cuisine–crayfish & grits, by Bruce Kotab (of Oscar Rose). The evening ends at EDIE RYANS in a consoling way with homemade pie and coffee accompanied by down home country music à la Johnny's version. A historical guide will be at each location to talk about the murals. BYOB  $50. Reservations required. Purchase below or call 740.622.0326  or email pomerenearts@gmail.com
The event is a fundraiser. We hope to raise $3000 to bring a painting conservator to town for a consultation in an effort to make sure the murals last for generations to come. If you'd like to support the effort but can't come to the event, follow the donation link below.
LIST OF MURALS we should think of as community historic treasures
Chase Bank: "Canal Days," painted by Dean Cornwell in 1960.
Central Elementary School: "Colonel Bouquet," painted by Ben Blackson in 1964. to be moved to the new Elementary Library
The Coshocton County Courthouse: "Colonel Bouquet's Treaty in 1764," painted by Arthur Woelfle in 1908.
Edie Ryan's Restaurant: "A Panoramic View of Old Roscoe," painted by George Young in 1978.
Coshocton Firehouse: "Fire Equipment from 1803, 1905, and 1962," painted by Benton Clark in 1962.
The Presbyterian Church of Coshocton: "Missionaries to the Indians," painted by Mr. and Mrs. William Lucas. these last two murals will not been seen as part of the Progressive Dinner
Associate: installmentloanline.com