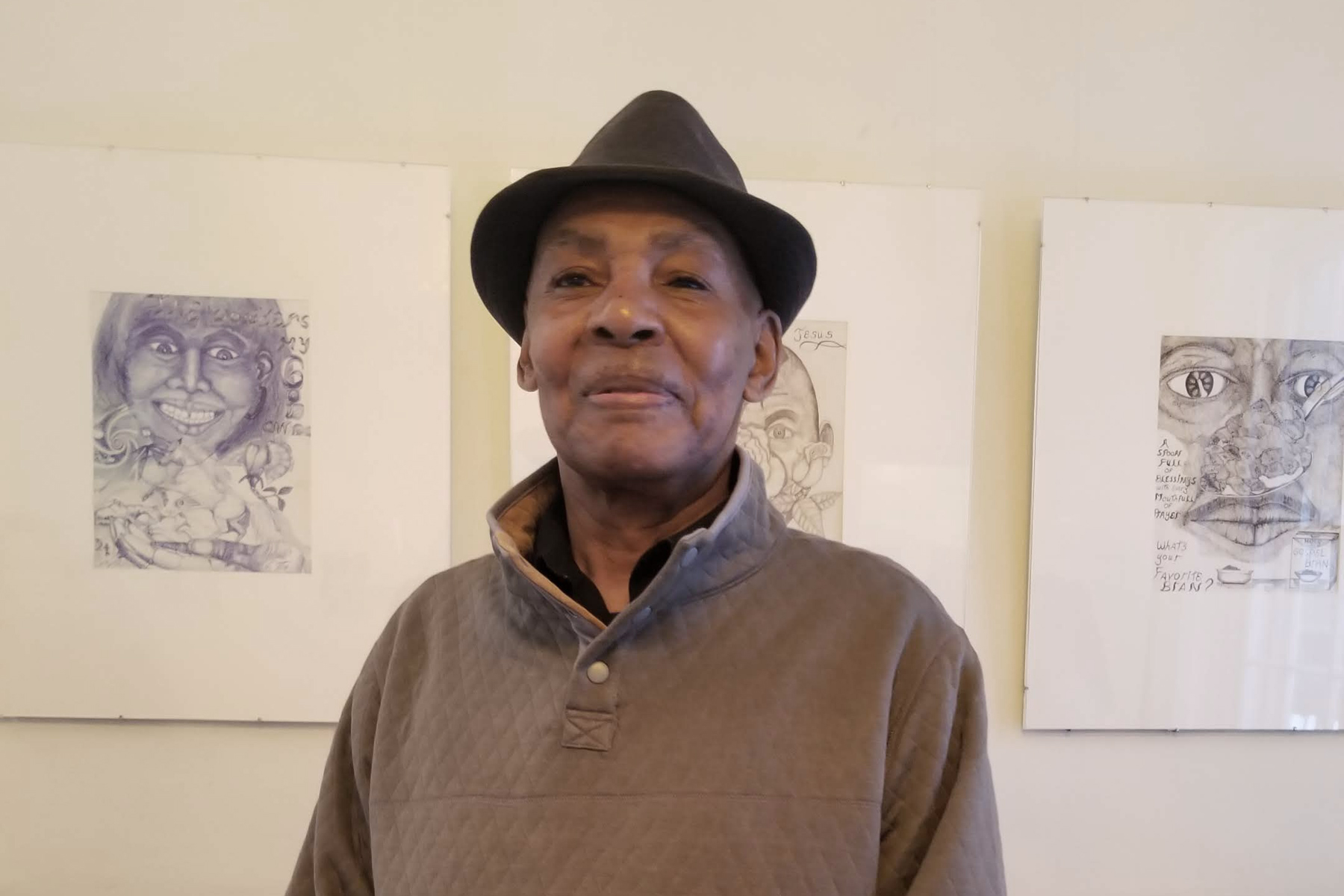 ROBERT KING – DOTS OF INSPIRATION
ROBERT KING – DOTS OF INSPIRATION
February 20 – April 20, 2019 
Closing Reception April 20, 3-5pm
Robert King starting sending intricate dot drawings one at a time from prison to his beloved Beatrice.  She was the only one on the outside to see them and she saved them all. Though she encouraged Robert to share his work once he returned to the outside it took him 20 years to comply.
There was a good deal of fortuitous timing when Robert walked into the Pomerene with his storage box of artwork.—Robert's work dealt with his recovery from addiction. We were considering how to build a relationship with a local recovery group many who live in apartments overseen by Coshocton Behavioral Health Choices. And within weeks, before we could reach out, the Director of Coshocton Behavioral Health Choices emailed asking if the Recovery Group could plan to have their Valentine's Party at the Pomerene.  We opened Robert's show for their private party on February 20th.
DOTS OF INSPIRATION remains on exhibit at the Pomerene through April 20th, closing with a reception that day from 3-5pm. The reception is free and open to the public. 
ARTIST STATEMENT
My name is Robert King and I am a native of Coshocton Ohio. First and foremost, I give all honor, all praise and all glory unto the Lord who has been my guidance throughout the drawing of my artwork. My sole objective is to reflect the hope, the change, and the beauty which can rise amid the trials and tribulations during desperate moments in one's life.
Drawing a beautiful picture means little or nothing when you yourself are looked upon as being a terrible person—a person who has struggled with alcohol and drugs, bad relationships and run-ins with law enforcement. It was during those moments that I attempted to replace the darkness in my life with the love, the mercy and forgiveness which is a promise to us all that eternal salvation can be ours if we only have the faith the size of a mustard seed. Each dot from my pen is representative of that faith.  True Art, regardless of who draws it or where it originates, has a way of uniting people both in spirit, in mind and most importantly, it brings together people as one in heart. It's only in the darkest hour that the dimmest Star can shine its brightest! Which makes art a powerful form of expression.
Envisioning that mere amount of faith"The size of a mustard seed to bring unto us eternal salvation," was the inspiring point for these drawings entitled " dots of inspiration " I have learned not only how to make a change, but to become a change, through the encouragement of my better half Beatrice Rheins , who has kept these drawings close to heart for the better part of 20 years . I am proud to display them openly to the public for the first time with the help of Anne Cornell through the Pomerene Center for the Arts. To them I owe much gratitude! Thank you.
BIOGRAPHY
Artist Robert King was born and raised in Coshocton Ohio. Even through many adversities, he achieved certifications in heating and air conditioning, major appliance repair as well as basic Electronics. He went on to attend the Ohio University branch in Chillicothe Ohio where he studied towards his associate's degree. Majoring in psychology and minoring in college mathematics. In addition Robert is certified by the state of Ohio as a tutor in all subjects for those attempting to achieve their GED diploma. His drawings are inspired from a Bible verse with States " Kingdom of Heaven is liking unto that of a mustard seed. Hence the title " dots of inspiration".
Thanks to Lee's Glass and The Frame Shop for donating their time to cut glass and mats for this exhibit. And thanks to the CBHC Recovery Group for helping to hang this show.