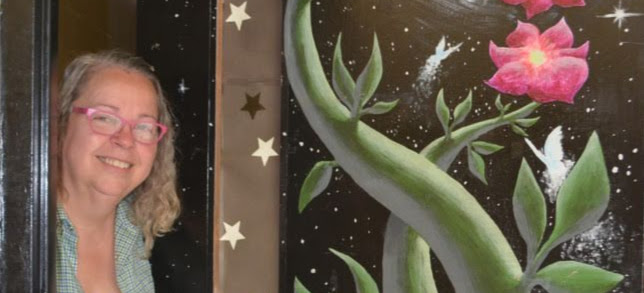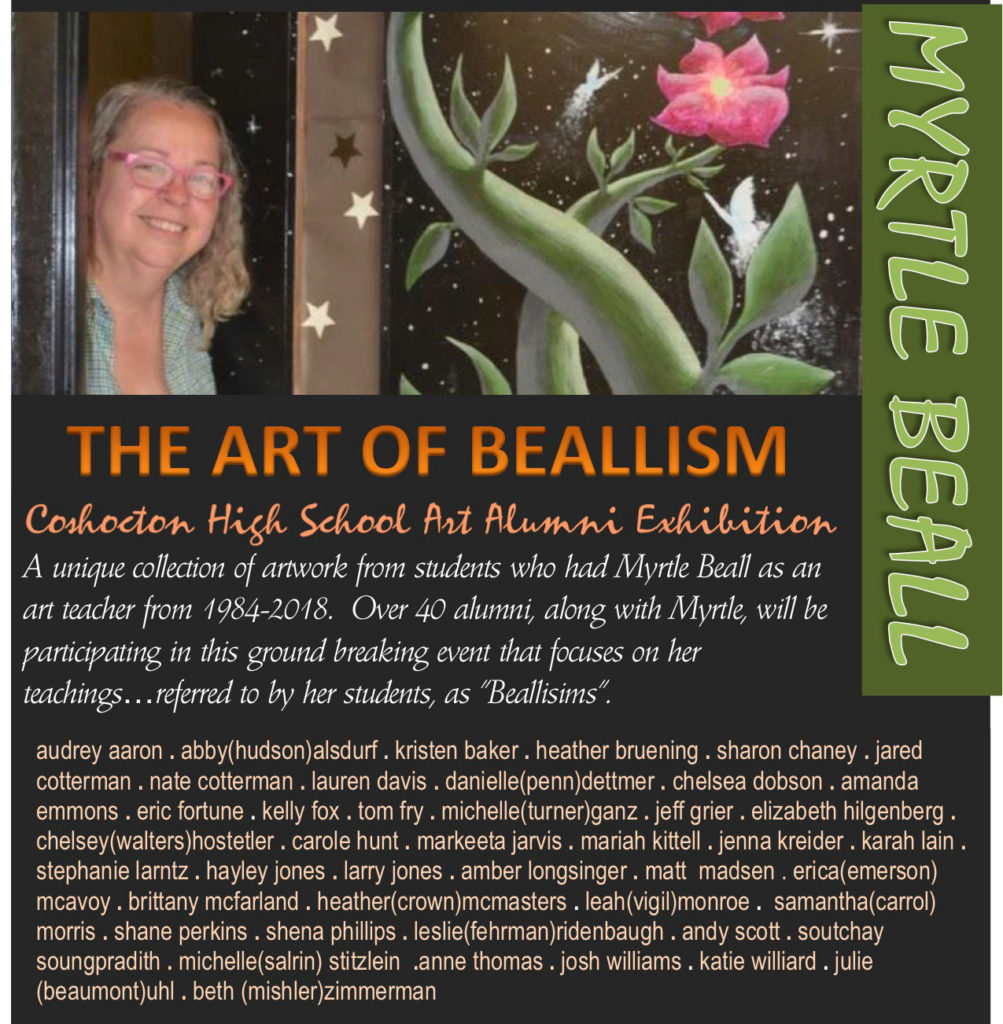 Opens Saturday, April 27th 6:30pm — Closes Friday, June 14th, 2019 after Jazz on the Lawn
ARTIST STATEMENT
History is past. It is a hazy memory filled with echoes, whispers and shadows; some good and some bad. The past has much to offer if we open ourselves up to the inspirations it holds. Some would call a person infatuated with the past a nostalgic. I guess that makes me one, since I find great meaning in revisiting the past and the experiences, memories, and people who fill it. This show, "The Art of Beallism", echoes the past as, me meet in the present, to bring together art alumni from my wonderful career as an art educator.
For 34 years I shared my love of art and creating with thousands of students, whom I lovingly referred to as, "my kids". I shared my knowledge, skills, and sometimes life lessons with them. Yes, we worked hard, but we also hugged, laughed, sang, danced and sometimes cried together. At some point, they began calling my teachings "Beallisms". Over the years, I would think (sometimes wistfully) about them, and wonder where they went, and if they were putting their "Beallisms" to use. My nostalgic love for them and a desire to inspire their creativity is why this show exists. As I look at their adult creations though, distant memories of who they were as students juxtapose with the reality of who they have become as creative adults. Echoes of "Beallisims" and past lessons learned reveal themselves to see the light of another day. Their collective work merges the nostalgic past with the hopeful present.
Feelings of nostalgia also prevail throughout my personal body of work. The "Beallisms" that I shared with my students those many years, were used to provide the foundation for my own creations. Diverse in subject and media, the pieces range from the traditional "Blue Daisies" and "Koi", to the conceptual "Ties That Bind". A bit of whimsy can be seen in "Lenore" and "Pocket Change", while "The Ties That Bind" carries a deeper social message. In each piece, the past visits me and we merge together to become one.    -M. Beall
ARTIST BIOGRAPHY
At the ripe old age of three I discovered drawing. Coloring books, mud bowls and things made of sticks soon followed. My interest in art continued to expand and grow just as I did. Modeling clay provided endless opportunities to create dinosaurs for a Jurassic diorama that filled up the coffee table for days, and the Sears catalogue was full of beautiful people just waiting to become paper dolls at my eager hands. Thankfully, my mother never scolded me for my messes and always offered plenty of encouragement and praise. In my mind art felt like love; safe, welcoming, nonjudgmental, and warm. Nothing about my artistic ability seemed unusual to me, because everyone in my family had some sort of creative outlet. It was not until I started school that it became apparent that I could do something most of the other students could not do. Throughout my elementary years my identity as an artist grew. My teachers often recognized me for my artistic skills and my classmates frequently asked me to draw pictures for them.
Middle school was a nightmare! Art was not a part of the curriculum, so I lost what I enjoyed most about school. One of my teachers told me art was a waste of time. I hated her and that class! I assumed all of my teachers felt that way, so I hid my art from them. Without visual reminders, my peers seemed to forget that I was an artist. I could feel myself shrinking…my identity fading. Things got worse when a group of students started to bully me on a daily basis. At this point art was gone from my life, because I was just trying to survive. Without my art I felt worthless, ugly and unloved. Thankfully, things improved dramatically in high school. My art teacher was great. She was kind, supportive, encouraging and challenging all at the same time, which is just what I needed. She noticed an ability I had for helping others and suggested that I become an art teacher. She planted a seed. Thank you Miss. Studer!
My teaching philosophy was a direct reflection of my youthful experiences with art. I wanted my "kids" (I rarely called them students.) to make a life-long connection with art. I wanted them to feel like my classroom was a safe place to explore and grow, where it was OK to be playful, where you were expected to ask "What if?", where it was OK to be make messes and mistakes, where everyone had the same opportunities regardless of skill, where they felt pushed to go beyond their abilities, where they felt encouraged, where they grew as a person, where they experienced the power and the satisfaction of making art, where they learned from their failures, where they became life-long problem solvers, where they were challenge the obvious, where they socialized with people outside of their peer group, and where they felt valued and loved. It might surprise some, but creating great artists was not my primary goal. If it happened, great! But, I was more focused on developing the whole person. Someone who could solve problems, take risks, accept challenges, work well with others, be an advocate for the arts, and never stop being a creative being. As I perfected my teaching skills to address these areas, I developed a core set of understandings that I wanted my kids to have. This is the important stuff I wanted them to carry with them once they left my classroom forever. I hope and pray that it has served them well over the years. From these important understandings, I developed starter topics that I formed my lessons around. At some point, a few students began to refer to these topics as "Beallisms". And from that, a show was born!