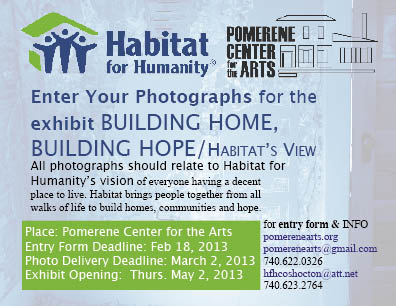 Important Dates:
February 18 – entry form submission deadline
March 2 – photo delivery deadline
May 2 – exhibit opening
In partnership with Habitat for Humanity, the Pomerene Center for the Arts is asking Coshocton County photographers (professionals and non-professionals) to submit photographs for the exhibit BUILDING HOME/BUILDING HOPE, Habitat's Vision. All submissions must be original photos that relate in some way to Habitat's vision of everyone having a decent place to live.
What makes a home? We've been thinking, looking… click to see our Pinterest board of images
…and asking–click the following links to listen to people at the Coshocton County Fair talk about if they could have one piece of furniture–only one…what piece of furniture would make their place feel like home?  Listen to track 1  Listen to track 2 
Photographs should be printed on best quality photo paper and submitted without frames or matts. Entry submission deadline is February 18th with a photo delivery deadline of March 2nd.  There is no entry fee.
Click to download an entry form
or pick up your Entry Form at the Pomerene Center for the Arts, 317 Mulberry Street
or the Habitat for Humanity office, 1035 Walnut Street.