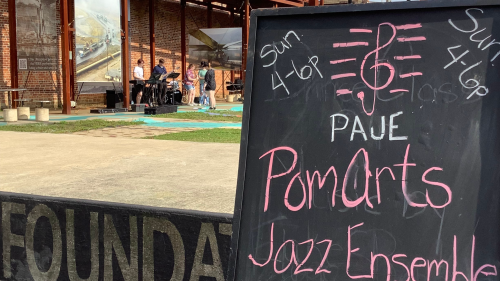 Introducing the 2023 PomARTs Jazz Ensemble!
Sunday Summer Jazz Sessions June 25 – August 13. 4-6p artPARK.
---
Our imagination of late-weekend summer hours just before admitting you need to think about the upcoming week
Take a Sunday stroll down Main Street window shopping along the way — on the 300 block alone there's
a photo exhibition of AEP Conesville in the ITM windows and banners in the artPARK —
not to mention the beautiful flowers all around thanks to Coshocton in Bloom
Around 4:30- 5p (after the band has warmed up, though you're welcome to come earlier), ease your way into the artPARK — maybe you bring a picnic — and spend an hour or so listening to PomARTS Jazz Ensemble.
Announcing this year's musicians!
Please imagine a little drum riff with a few raspy saxophone notes and a definitive chord or two from the keyboard —
Katey Hardesty, director!
Ally Casey, Grace Hawthorne, Brooklyn Ranalli on trumpet!
Brynna Kirkpatrick and Hannah Kavanaugh on woodwinds!
Jake Kundu on drumset!
Sheldon Stotts on bass!
a little bit ABOUT
PAJE, is a pre-professional entrepreneurial jazz ensemble. Director Katey Hardesty envisions, plans, and executes all aspects of the project. The Pomerene Center for the Arts acts as fiscal agent and mentor. Thanks to Kirby Hasseman of Hasseman Marketing & Communications and the Coshocton Port Authority for holding a morning seminar on small business development August 2022 for PAJE and TEAM DYNAMOS.
speaking about WHAT?
Talent is one thing. Business skill another. Here, the POM wears the hat of incubator, providing an opportunity and encouragement to bring young creative passion to bear on the hard work of developing business skills.
always needs to be a WHY
Making community space for creative youth > creates room for creative youth to imagine a future adult place for themselves in our community. How about that for a tangle of words? Larger point: Music brings us together.
call to ACTION
Come out. Bring someone young. MUSIC is a bug we want our kids to catch.