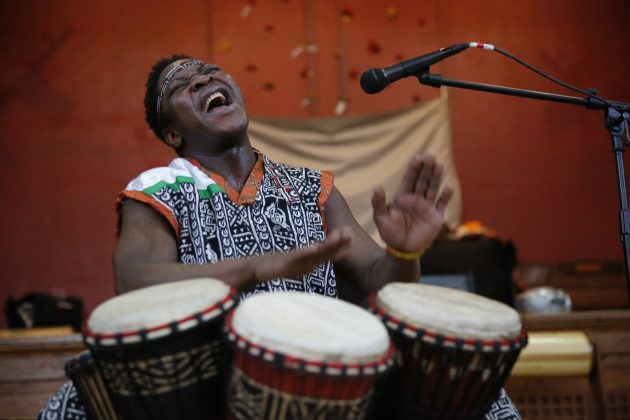 FAMILY FUN, MUSIC & ARTMAKING 2017 series in the artPARK
FAMILY FUN, MUSIC & ARTMAKING is a family-friendly, free event featuring great music. Prepare to kick back and spend a free & easy interactive time with your family, friends and neighbors. All you need to do is bring a blanket or chairs and maybe a picnic.  It's "come as you are/go when you're ready to leave". We'll have art supplies out on the lower level of the platform for anyone who wants to make a little something.
When—Thursdays in July, 6pm.  IT'S FREE.
Where—The artPARK wooden platform, 325 Main Street with a view of the Coshocton County Court Square. 
The west side of the artPARK is in shade and there is almost always a cooling breeze after the heat of the day—in other words, small town summer perfection. Rain site under the tent at the Pomerene Center for the Arts, 317 Mulberry Street.
 July 6 SARAH GOSLEE REED – Folk
Growing up, there was always music in Sarah Goslee Reed's house.  Her father played the bassoon and her mother played the cello and string bass. She taught herself  to play the guitar.
Sarah's love of children and families, growing gardens, and smaller living things find their way into her music — all of which makes for a joyful live performance.
Her new CD called Sleep Like Fish is ready for release this summer.
July 13 SOGBETY DIOMANDE – West African Drumming and Dancing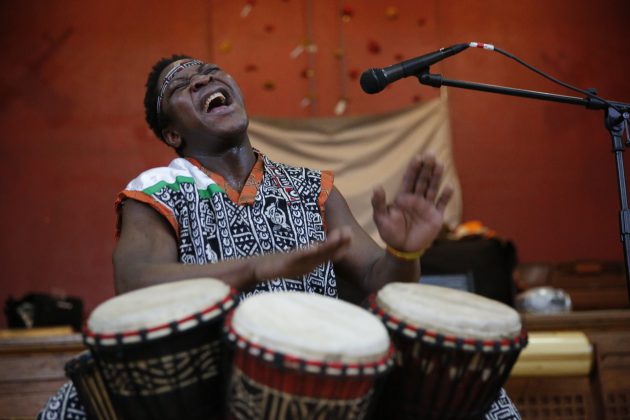 Get a glimpse of West Africa with Sogbety Diomande, native of the Ivory Coast, through drumming and dance, colorful costumes, musical instruments, rhythms and songs.  This interactive performance is sure to engage and delight all audiences!
July 20 
ROCK & ROLL 
Hailing from rural Southeast Ohio, The Wayfarers emerged onto the scene in early 2010 playing their own form of American Roots music. Their spirited approach to live performance is infectious and people of all ages will be drawn in to the sounds of thumping washtub bass, driving guitars, sawing fiddles, and rich harmonies.