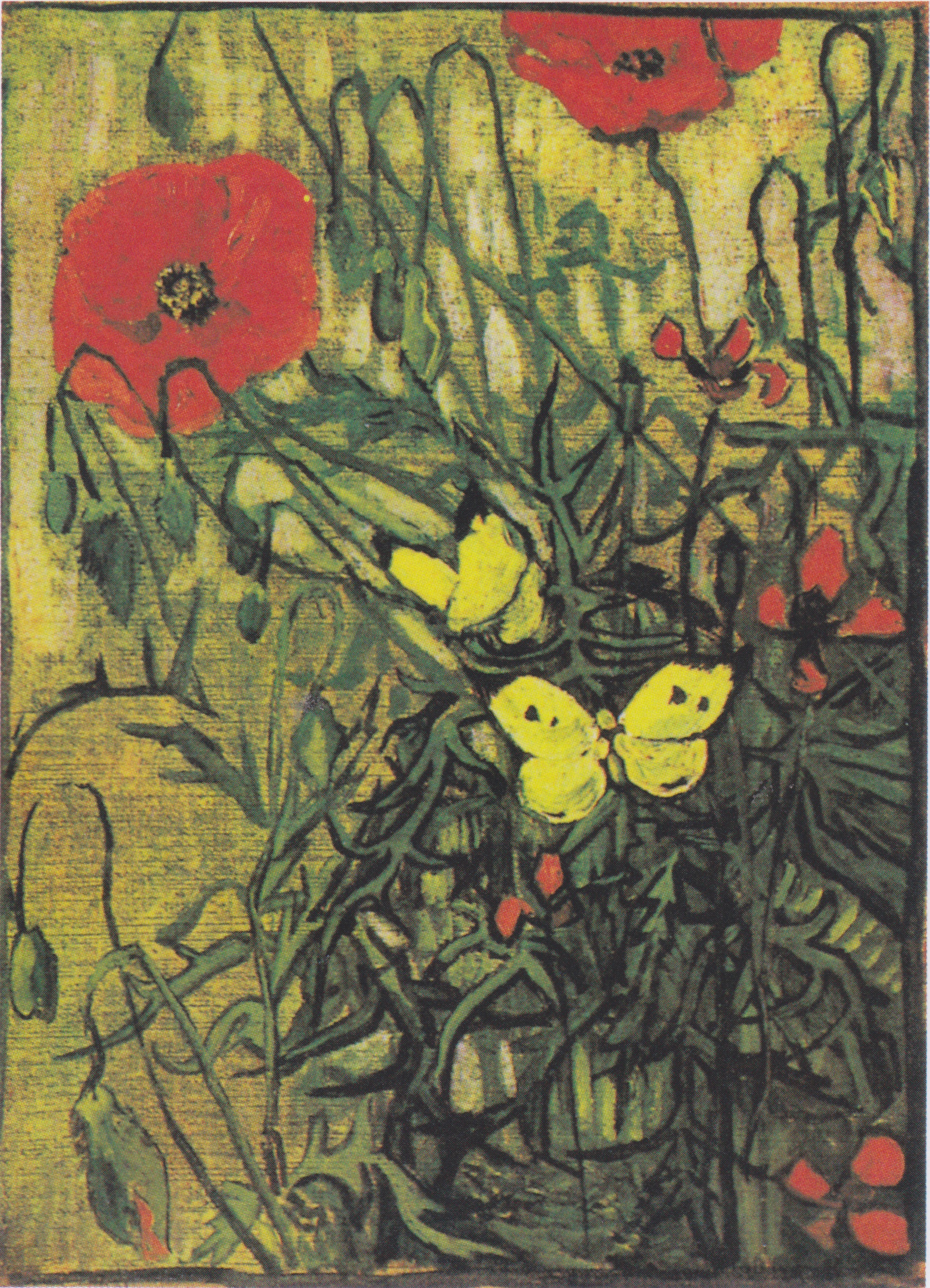 BUILD A BETTER BUTTERFLY WORLD
Butterflies and Poppies, Vincent van Gogh [Public domain], via Wikimedia Commons
For the third year running we've taken our summer programming cue from the Library's Summer Reading Program theme. 2017—Build a Better World.  AND…Since we're excited about the butterfly enclosure coming to
Clary Gardens
 June 28 – July 2 we've gotten specific.  BUILD A BETTER
BUTTERFLY
WORLD. And…we think we should build a better world for butterflies—
They make us happy with their beautiful colors and their wandering, weightless flight.
They are great pollinators and serve as natural pest control agents which makes them environmentally useful.
When you see lots of butterflies, they signal a healthy ecosystem.
We'll work with young artists to make super-sized flowers for the artPARK and butterfly costumes for themselves. We'll sweeten the flowers with sugar water and good smells to attract wild butterflies and then join them in a live performance in the artPARK. Children will learn about construction, costuming, movement, and sound and increase their knowledge of butterflies and the plants they love.
POM THEATRICALS —BUILD A BETTER BUTTERFLY WORLD
Wednesdays June 7 – July 26. 
for children going into grades 1-3, 9:30-10:30am. Limit 12 children. $5/week
for children going into grades 4-8, 11am-12noon. Limit 12 children. $5/week
ITTY BITTY POM THEATRICAL CAMP —BUILD A BETTER BUTTERFLY WORLD
July 24-28, 9:30-10:30am.
for children ages 3-5,  Limit 8 children. $25 for the week
 2 ways to register
Call 740.622.0326
Download registration form here, complete and email to pomerenearts@gmail.com  or return to Pomerene Center for the Arts, 317 Mulberry St. Coshocton, OH 43812
POM THEATRICALs is an all-around arts education experience for children 1-3 and 4-8 designed to encourage a broad range of creative expression through the exploration of drama, writing, movement, visual arts and music. It's a collaborative effort calling on all creative skills.
About the teachers
Mary Yaw McMullen—Following a 5 year career as a Costume Designer/Shop Manager and Instructor for the Department of Dance at OSU, Mary returned to Coshocton County in 2014 with her husband Kyle and their two children. She brings her 13 year freelance costume design business and her wealth of theater experience and knowledge, along with her ebullient community spirit to Coshocton. As a graduate student Mary studied "inside out" theater in Prague, Czech Republic where this method was developed from ancient classical roots.
Anne Cornell—Anne Cornell has directed the Pomerene Center for the Arts since 2000.  She is a visual artist who takes delight in fashioning opportunities for children to explore the world and their own creativity.