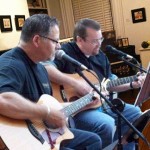 Those Guys | Friday, March 1, 7pm
Genre: eclectic
Suggested donation $10
Fri, March 1 at 7pm–The Pomerene Center welcomes THOSE GUYS for a mellow musical evening–meaning this is probably not the event for you if you need a thumping beat to stay awake. On the other hand, if you (check any or all of the following) have a wide-ranging taste in music…like acoustic guitar…love old architecture…find house concerts a cool idea…like to mix it up with people whose paths you don't usually cross…want something out of the ordinary to do with your friends–then this is a night for you.
THOSE GUYS will be reaching back as far as the early 60's with Willie Nelson's, "Funny How Time Slips Away." The song fits well into Brad Fuller's vocal wheelhouse and Joe Hardesty's picking style. Not sure if Joe will be playing the harmonica in this number but he's bringing his harmonica.
So expect a little harmonica, a smattering of blues, music from the 70's including "Ain't No Sunshine" and then sit back and be surprised.
Listen to Willie Nelson's first recording in 1963  or live  at the Farm Aid concert in Hershey, Pennsylvania on September 22, 2012.
WHAT IS A RENT PARTY? At the time of the Great Migration north (1910-1930), blacks emigrating from the south settled the problem of Harlem's inflated rents by throwing parties. Furniture was moved to the outside walls, musicians and refreshments were brought in, card tables were set up out of the way of the dance floor, and the doors were opened in exchange for a few bucks.
In an effort to relieve stress on our monthly budget, the Pomerene Center has adopted/adapted the Rent Party to help meet our monthly gas bill. YES! We open our doors at 7:00pm on First Friday evenings, October-April and present great acoustic music– great times (especially if you bring your friends!) –and great food $3 per plate. Suggested donation $10 at the door.