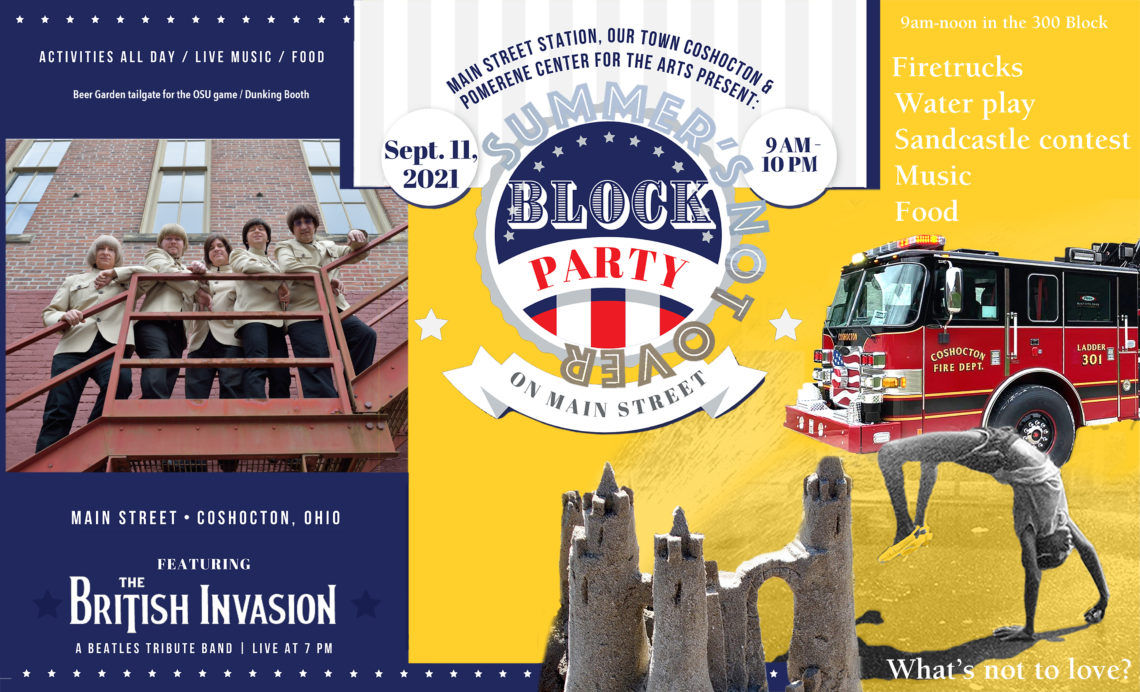 Summer's Not Over Block Party
September 11, MORNING
9am-noon in the artPARK, 325 Main Street, Coshocton, OH.
School starts. Pools close. The weather remains hot. This is what we've come to expect yes?
Can't beat it? Join it! FAKE BEACH is what we're thinking. The Coshocton Fire Department will be putting a diffuser on the hydrant in front of the artPARK. Bring your towels so you can play in the spray. Where there are firemen opening hydrants there are firetrucks to explore. Which one of the children you know wouldn't want to check out the new city ladder truck?
Thanks to a donation from Rural King, we'll have pools full of sand for building castles.
Add some chalk, music, a bicycle coffee cart sent down to us by Jenny Penny's Café with coupons for breakfast or lunch, the farmer's market across the street and….LIFE IS GOOD.
---
Want to enter our Sandcastle Building Contest ?
Open to people of all ages. Registration required. Enter solo or as a group.
Schedule: 8:30 to 9:30am — Check In. 9 to 11:30am — Build your castle. 12pm noon — Prizes Awarded
Prize Categories: Everyone's a Winner, Tallest, Most Creative Tool Use & Grand Prize —THE WOW AWARD.
Once you've registered 740-622-0326, office@pomerenearts.org or below…start gathering your tools! It's a bring your own buckets and shovels event. We'll supply access to water, a 42" pool filled with sand and a flag with your individual or group name.
PRIZES? to be sure! Everyone's a winner of some little trinket, Tallest – $50, Most Creative Tool Use – $50, Grand Prize WOW AWARD – $100.
Photo credit – Alan Roberts (Warsaw, Ohio). His family built this a few years ago on Rockaway Beach, Oregon.
---
---
The community memorial for the 20th anniversary of 9/11 is on Friday, September 10 on the court square.