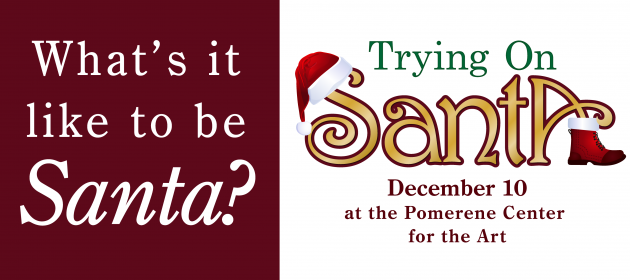 TRYING ON SANTA—NEW FAMILY EVENT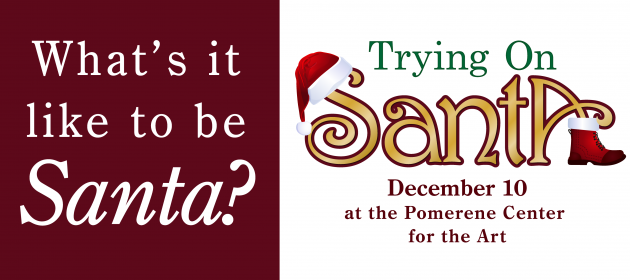 2017 DATES: DECEMBER 2nd, 9th & 16th 
TRYING ON SANTA a NEW FAMILY EVENT @ the Pomerene Center for the Arts
December 10th, 11am – 3:00pm & 4:00-8pm
$15 per family for an hour's worth of fun.
Schedule your Dec. 10th visit and buy your ticket
Add a professional photo shoot
Did you ever wonder what it would be like to stand in the boots of Santa Claus? You and your family can find out on December 10th at the Pomerene Center! TRYING ON SANTA will bring Santa "at home" to life through interactive experiences that are fun for both parents and children alike. Personal elves will guide families through the rooms of the Pomerene Center with a different themed activity in each room. There will be a professional photographer available for festive family photos if you choose to have your holiday pictures taken right here at the Center.
Here's where and what will happen
THE PORCH
Family portraits on the porch if you choose to Add a professional photo shoot
SANTA'S DRESSING ROOM
The ultimate holiday dress up experience. Consider the pleasure of clomping on old wooden floors in Santa's big boots. Imagine the joy of pulling on a pair of his bright red pants and the silliness of trying to figure out how many siblings can fit inside his coat! There's sure to be lots of giggling and looking in the mirror.
A ROOM FULL OF ELVES  (the workshop)
It's not hard to imagine what happens in here—it's all about work! Everyone will roll up their sleeves, put on an apron and join in the toy-making. You'll take home what you make—what a great gift to stuff in someone's stocking!
TWAS THE NIGHT BEFORE CHRISTMAS (Santa's Study)
To wrap up the visit you'll enjoy illustrations of the poem TWAS THE NIGHT BEFORE CHRISTMAS by local artists before joining Santa himself. We expect he'll be deep in the planning mode for his night-before-Christmas trip! You can find your house on his maps and help him plan his magical flight path.
Schedule your Dec. 10th visit and buy your ticket
We are issuing family tickets from 11am  Saturday morning ending at 7:20pm. We're suggesting you allow an hour for your visit. See list of scheduling options below:
If you have a google account, you can  schedule your visit here — you'll see a link to the next available appointment slot on Dec. 10, 2016
You can click here to email us or send us a message @ 740.502.5109. Include the hashtags #TryingOnSanta, #ScheduleYourVisit and let us know the broadest timeframe between 11am and 7:20pm that will work for you. We'll email/message you back with a scheduled time and information about how you can purchase your $15 ticket.
If you prefer, you can call us @ 740.622.0326.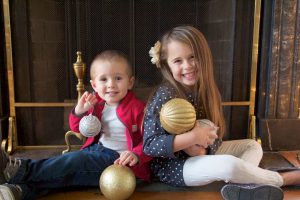 Add a professional photo shoot – $60
Unique Videography by Kristi L. Timmons is offering holiday photo shoots throughout the day.  She'll greet you on the front porch as you arrive for a formal family portrait and then follow you to SANTA'S DRESSING ROOM andA ROOM FULL OF ELVES to capture candid shots of your family at play. Within the week she'll send a CD of holiday photos for you to share with friends and family. Kristi knows the Pomerene Center well and will capture unique pictures of you and your family in our unparalleled historic home decked for the holiday. Rather than feeling the pressure to capture the moment, you'll be free to play with your family. This 20 minute professional shoot will be well worth your dollars! If you want to take advantage of this offer let us know at the time you schedule your visit.