Two Hits & A Miss
Baby It's Cold Outside
Friday, Dec 11, 7pm
@ the Pomerene Center for the Arts
Suggested donation $10
Reserve a table | 740.622.0326 or pomerenearts@gmail.com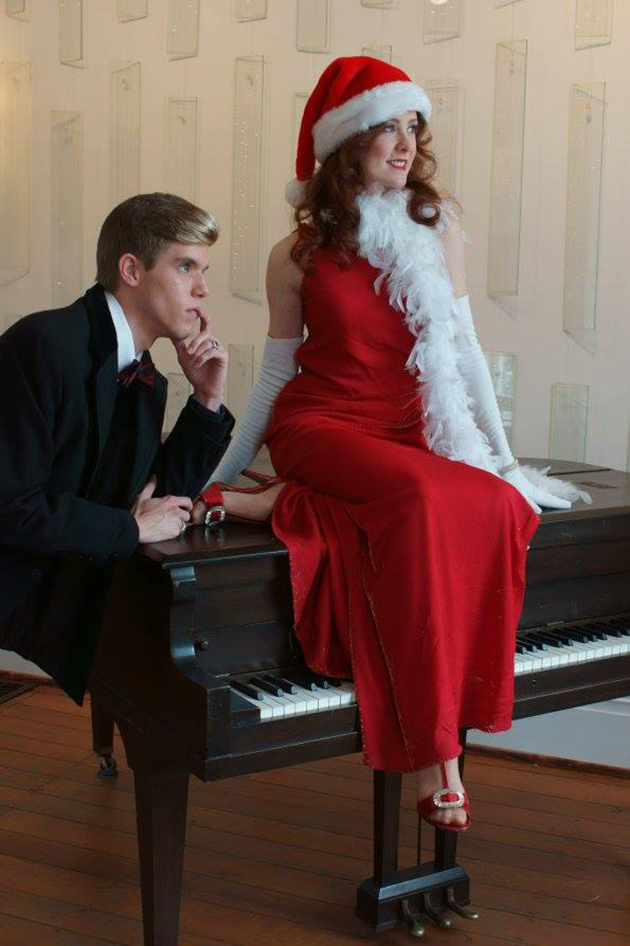 TWO HITS & A MISS–Daniel Barnett and Donovan Charles (the Hits) and Samantha Servais (the Miss) come together to sing love songs and Christmas classics at The Pomerene Center`s December Rent Party.  The ambiance of our gracious historic home combined with the some of the most beloved music of all time (Sinatra, Martin, Gershwin…) make for a perfectly festive holiday evening… dipped in the glamorous, golden past.
The Halls have been decked for this very special party at this very special place! Bring your favorite beverage and snacks from 7:00pm to 9:30pm along with a suggested donation of $10 per person and join the festivities. Call 740-622-0326 or contact us online at pomerenearts@gmail.com to reserve your table.
WHAT IS A RENT PARTY? At the time of the Great Migration north (1910-1930), blacks emigrating from the south settled in Harlem. To settle the problem of ever inflating rents they threw parties to help cover the rent. Furniture was moved to the outside walls, musicians and refreshments were brought in, card tables were set up (out of the way of the dance floor) and the doors were opened in exchange for a few bucks.
In an effort to relieve stress on our monthly budget, the Pomerene Center has adopted/adapted the Rent Party to help meet our monthly gas bill. YES! We open our doors at 7:00pm on First Friday evenings, October-April and present great acoustic music– great times (especially if you bring your friends!). Suggested donation $10 at the door.  Make your reservation by contacting us @  740.622.0326 or pomerenearts@gmail.com

"Keeping life interesting in Coshocton County through creativity and arts innovation."