Dogwood Youth Arts Celebration 2017
Since 1985, youth have been at the heart of Dogwood Festival. Overtime, the word 'festival' has become somewhat of a misfit. Please welcome Dogwood Youth Arts Celebration in its place.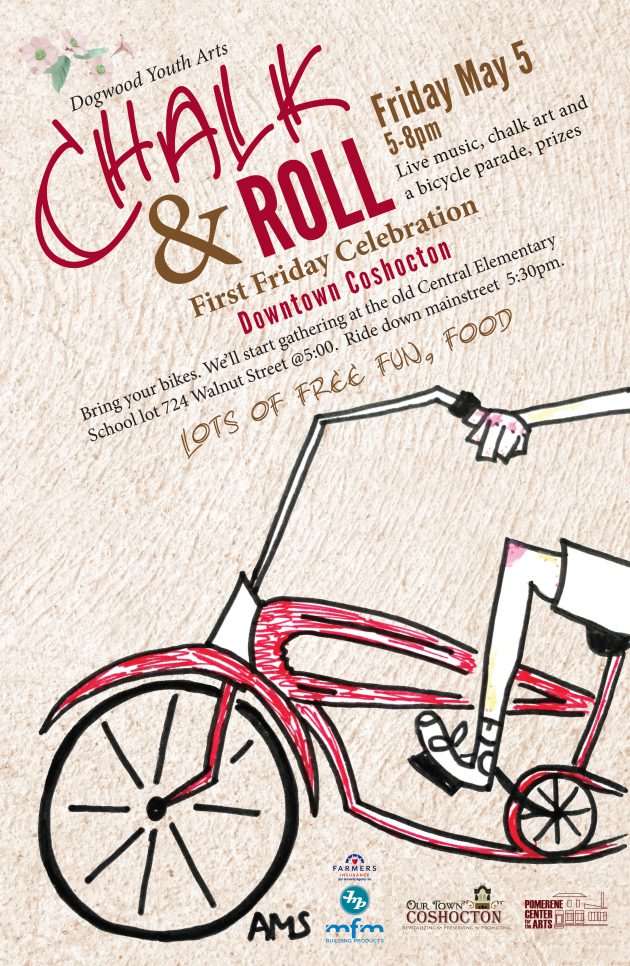 DOGWOOD YOUTH ARTS CELEBRATION SCHEDULE
MAY 5-12, 2017
MAY 5, 5-8pm Downtown Coshocton CHALK & ROLL
noon — CHALK ART EVENT begins. Professional artists begin their chalk art work in the artPark, 325 Main Street.  Youth, amateur and team artists join in the artmaking throughout the afternoon and evening. Rain strategies include tents and plastic to cover work during periods of rain. Artists—click here to register.  Cash prizes will be awarded by popular vote for favorite
Professional
Amateur
Under 18
Team
5-5:45pm The Octafellas on the artPARK Platform
5-5:30pm Bicycles gather in the old Central Elementary School Lot. Decorating tables will be set up for anyone who wants to embellish their ride. The Walhonding Rube Band play playing to start the parade juices flowing. Prizes will be awarded for
Largest Group,
Noisiest Bicycle
Bicycle most in need of paint
Best decorated under age 18
Best decorated 18 and over
5:30pm Bicycle Parade along Main from 8th St. – 3rd St.
5:45pm – Bicycle Parade awards announced from the Main Street Stage
5:55pm – Tap Dance Interlude on the Platform – Young Harper Jay
6pm – ART CONNECTS CHS Ribbon Cutting Ceremony in the artPARK gardens
6pm – 8pm – THE COMMITTED on the Main Street Stage (immediately following the Ribbon Cutting) Ridgewood High School Junior Tanner Davis has been going to the School of Rock in Rocky River (west of Cleveland) since he was a spit of a 4th grader. He plays guitar and performs with the Rocky River School of Rock house band  THE COMMITTED.
6pm – 7:30pm – Chalk Art People's Choice voting in the artPARK.  Winners announced at 8pm.
MAY 6, COSHOCTON FARMER'S MARKET 
8:30am-noon – River View Tri-M Honor Society performs
MAY 7, COSHOCTON PRESBYTERIAN CHURCH
3pm – Free concert—Bradley Hunter Welch performs on the Taylor Boody Tracker Organ a legacy gift from Mr. & Mrs. Joe Engle
MAY 8-12, ROTARY GAZEBO on the COURT SQUARE 
noon – Lunches on the Court Square (see complete schedule in side bar)
MAY 12, COSHOCTON YARD
5-7pm – Opportunity School Art Show "Crazy Things Work Together"
EXHIBITS THROUGHOUT THE WEEK
IN DOWNTOWN WINDOWS—Chalk and Roll murals created by River View 7th & 8th graders, Ridgewood 7th graders, and Coshocton 8th graders and Art II High School students with visiting artist Ginny Baughman
AT THE POMERENE CENTER, 1-5pm Tues-Sat—Art by visiting artist Ginny Baughman

"Keeping life interesting in Coshocton County through creativity and arts innovation."