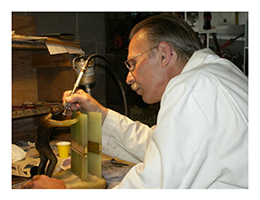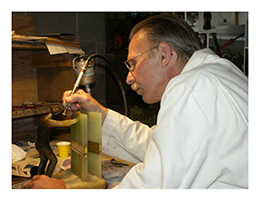 Doug Anderson. Glass. 
Doug lives and works in northwestern Coshocton County.    His work has been shown worldwide and  is represented locally by Commonwealth Americana  and exhibited most recently at the Pomerene Center for the Arts as part of the exhibit OUR HILLS ARE ALIVE, May/June 2014.
Back in year 1980 I fell into a deep relationship with glass. The glass has proven itself to be malleable, forgiving, and innately beautiful to the senses. Although the characteristic of glass are many, it is most usually known to us as a useful container or a see-through window. I have enjoyed glass as a medium to express my thoughts and feelings apart from its utilitarian function.
I have the pleasure of fashioning glass by melting the colored glass into molds. When the mold is separated from the cooled, melted glass a delightful thing appears. Glass, which is a "super cooled liquid," displays itself with fingerprint detailing that is accented by its translucency. These sculptures are one of a kind and are touchable as well as being visually intriguing.  My hope is that these sculptures which give m so much pleasure will also touch others.
Blessings, Doug Anderson