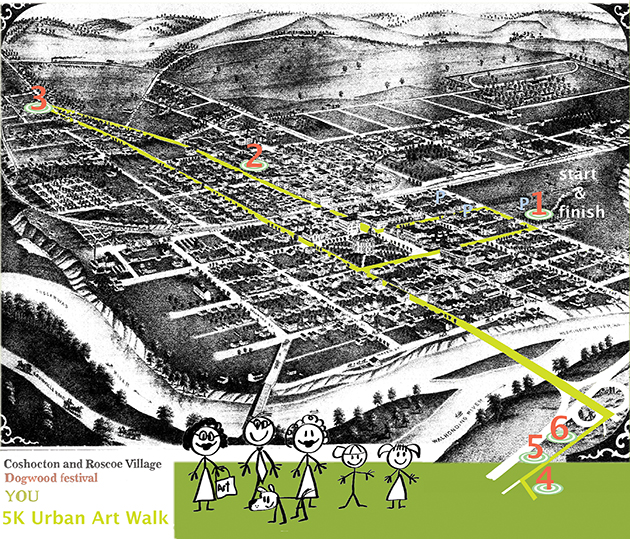 Saturday May 3, 2-5pm
as part of Dogwood Festival 2014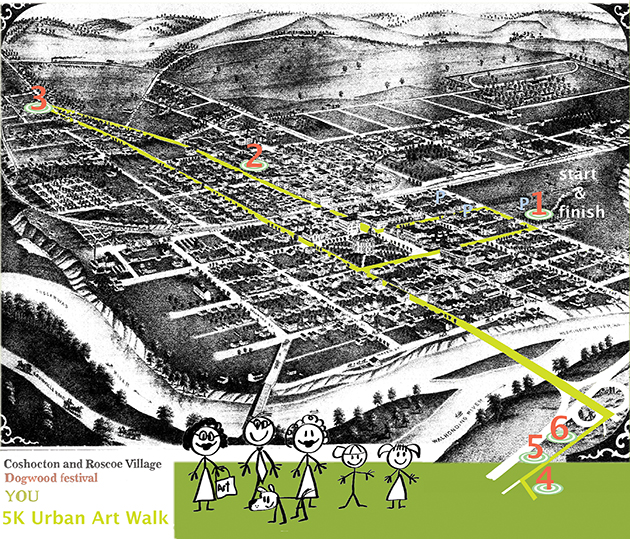 The 29th annual Dogwood Festival celebrates the richness and diversity of the Coshocton County visual arts scene with a new 5K Urban Art Walk event.  The Walk will wend a way through downtown Coshocton, across the three rivers, to Roscoe Village with stops at six arts venues. From 2-5pm Saturday, May 3, a selection of food will be served at each stop to keep walkers (or drivers as the case may be) energized.
The local shopping experience thrives on the personalities of the staff.  Trekkers will not be disappointed here; all proprietors on this walk are artists in their own right. Children and well-behaved dogs are welcomed and encouraged. As with most Festival events, the 5K Urban Art Walk is free.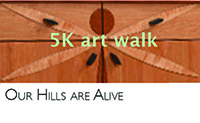 1. Pomerene Center for the Arts  OUR HILLS ARE ALIVE.  Five local artists will be exhibiting their work  in this insect themed show.  Doug Anderson–glass, Ron Corl–furniture design, Todd Malenke–metal sculpture, Erik Neff–woodcuts, and Joan Staufer–painting. Serving a selection of finger sandwiches, lemonade, and tea.  Festival hours — 1-5pm daily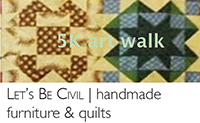 2. Mercantile on Main  1 of 11 shops chosen from over 3000 nationwide for the Spring 2014 "Let's Be Civil" edition of "Quilt Sampler" magazine by Better Homes & Gardens! On display –a quilt by Denise Guthrie designed for the magazine, quilts made by the shop's customers and furniture by Kevin Jonard including a custom designed chest ideal for fabric storage. Serving wine and cheese. Festival hours — Mon-Fri 9:30am-5:30pm, Sat until 5pm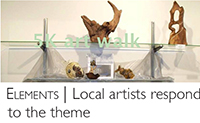 3. The Frame Shop  ELEMENTS. Exhibit of all local artwork including jewelry, paintings, and three-dimensional art. Serving  fruits and bottled water.
Festival hours — Mon-Wed & Fri 10am-5pm, Saturday 2-5pm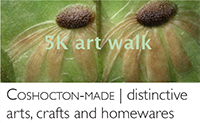 4. Commonwealth Americana –Celebrating its first anniversary! This shop features the best of Coshocton County arts and fine crafts as well as a charming selection of accessories for home and garden. Serving an inspirational medley of local treats, from the magic kitchen of Medbery Marketplace.
Festival hours — Mon-Sat 9am-5pm, Sat 9am-4pm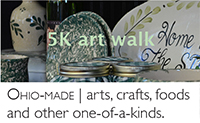 5. Ohio State of Mind – A newly opened unique store featuring all Ohio made products & Liberty Pottery.  Here you will find everything from food to art, as well as one-of-a-kind locally made items. Serving  cheese and cheese-its on steriods. Pink Elephant coffee (take home a bag!) and wine punch.
Hours — Mon-Sat 10am-6pm, Sun 10am-5pm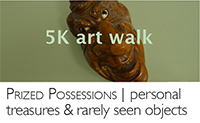 6. Johnson-Humrickhouse Museum  PRIZED POSSESSIONS. Exhibit features personal treasures with stories contributed by Coshocton residents. These items are precious for their connection to a person or place so the story itself is as important as the object. Also display, rarely seen pieces from JHM's collections, perhaps better described as its hidden treasures. Serving Sherbet with Ginger Ale. Hours — daily 1-5pm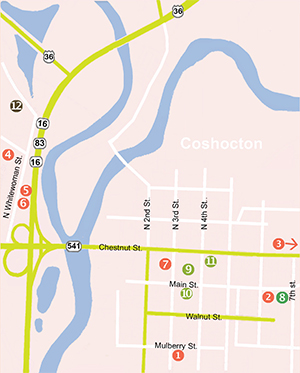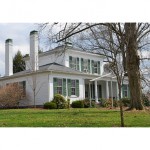 .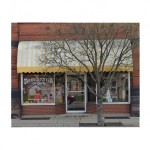 1. Pomerene Center        2. Mercantile on Main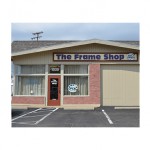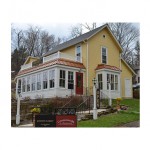 3. The Frame Shop         4. Commonwealth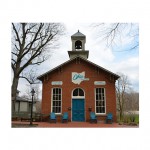 .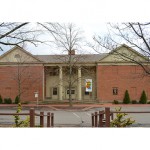 xxxxxxxxxxxxxxxxxxxxxxxxxxxxxxxxxxxxxxxxxxxx5. Ohio State of Mind    6. Johnson-Humrickhouse