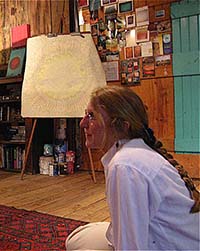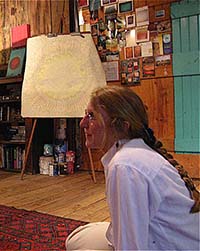 Joan Staufer. Painting. 
Joan lives and works in northern Coshocton County.  Her work can be viewed at the Ohio Online Visual Artist Registry and has been exhibited most recently at the Pomerene Center for the Arts as part of the exhibit  OUR HILLS ARE ALIVE, May/June 2014.
On a cold and blustery February morning, I received an invitation to participate in the "bug" exhibit at the Pomerene Center for the Arts in conjunction with the annual Dogwood Festival.  I declined, explaining that since my right arm was broken, the studio was closed until spring. Besides, I thought, I'm a symbolist whose work reflects my spirituality and reverence for the earth, not a painter of insects.
Later that afternoon, while on a frigid stroll, I reached into my left pocket (seeking a tissue, no doubt) and retrieved a fragment of a hornet's nest. Amused and fascinated by the remnant, I realized I do incorporate bugs and their handiwork into my paintings. Their traces (nests, holes, and wings) provide inspiration and materials for the pattern repetition, piercings and texture inherent in my work.
Joan Staufer – April 28, 2014