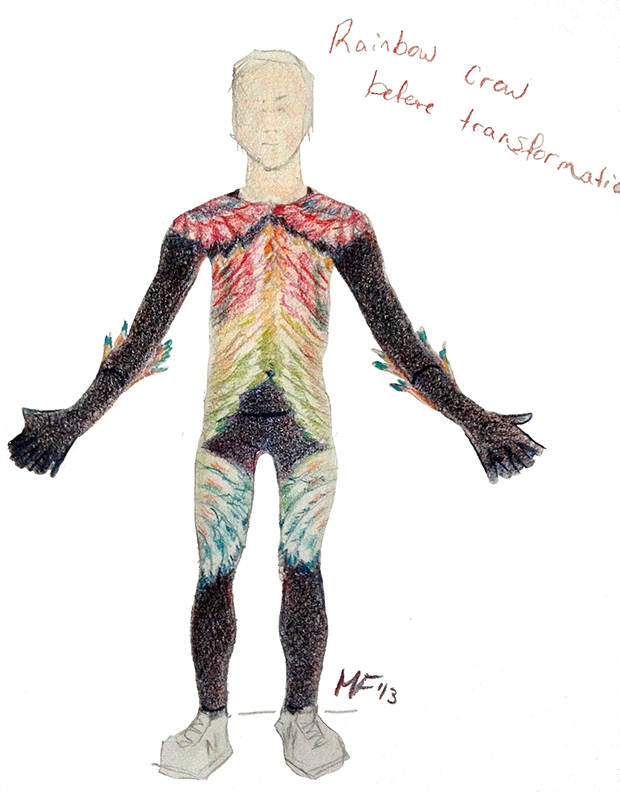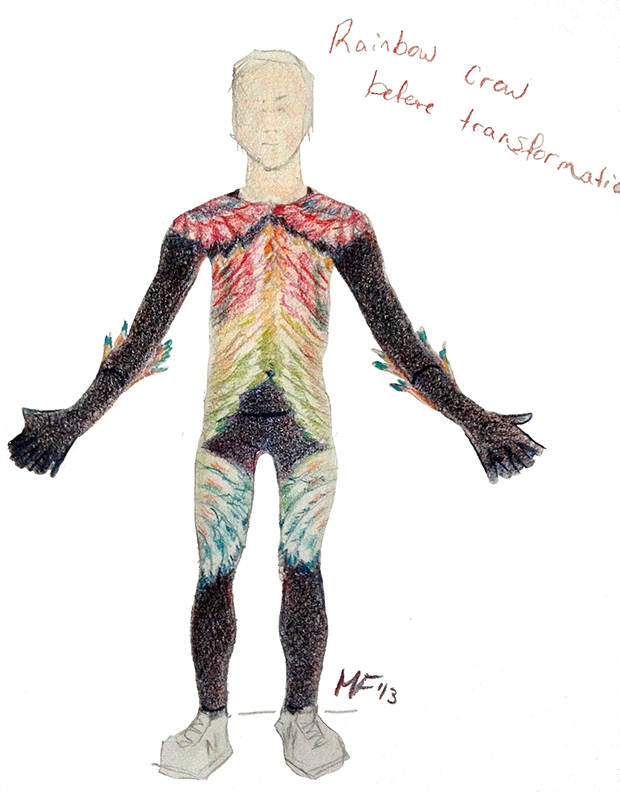 September 2013–In researching all things crow for the 2nd ANNUAL COSHOCTON CROW HOMECOMING we came across a beautiful Lenape/Delaware  Indian myth about the world when it was never cold and Crow was a rainbow colored bird with a beautiful singing voice. When snow & ice appear Crow agrees to make a journey to ask The Creator Who Creates By Thinking What Will Be to think the world warm again. The Creator Who Creates By Thinking What Will Be could not un-think snow & ice so he thinks fire, lights a torch off the sun and gives it to Rainbow Crow. Over the long flight back to earth Rainbow Crow is charred and turned forever black in service to his brother and sister animals. read the whole story
We are well practiced at creating bird costumes here at the Pomerene thanks to our INTO THE WOODS COSTUME WORKSHOP  June 2013 with Ginny Clow. (Ginny is a Coshocton native –not in the Lenape/Delaware sense–who works as a costume painter at Parsons-Meares Ltd in NYC).   June 9, deep into our work, William Ivey Long, costume designer for Rodgers and Hammerstein's Cinderella wins the 2013 Tony Award for Best Costume Design.  June 10, Mindy Brems (veteran costumer for the Coshocton Footlight Players working in the Pomerene Studio with young costumers on sewing construction) waxes in amazement over  his transforming Cinderella costumes.
Back to the story and the planning of the Crow Homecoming–Rainbow Crow transforms bearing a torch=the need for a transformational  bird costume, a runner (olympic style torchbearer), and a 5K.  High school age artist Meredith Free, a member of the INTO THE WOODS COSTUME WORKSHOP team, agrees to work with Mindy Brems to create the costume. Coshocton Habitat for Humanity has a 5K planned for the morning of Nov. 9, same day as the Crow Homecoming. Habitat's vision is of  "A world where everyone has a decent place to live."  Perfect fit with Rainbow Crow's mission to secure the return of earth to a habitable place. Anyone interested in running a 5K with Rainbow Crow through the bucolic village of West Lafayette, Ohio in support of Habitat for Humanity can register here.