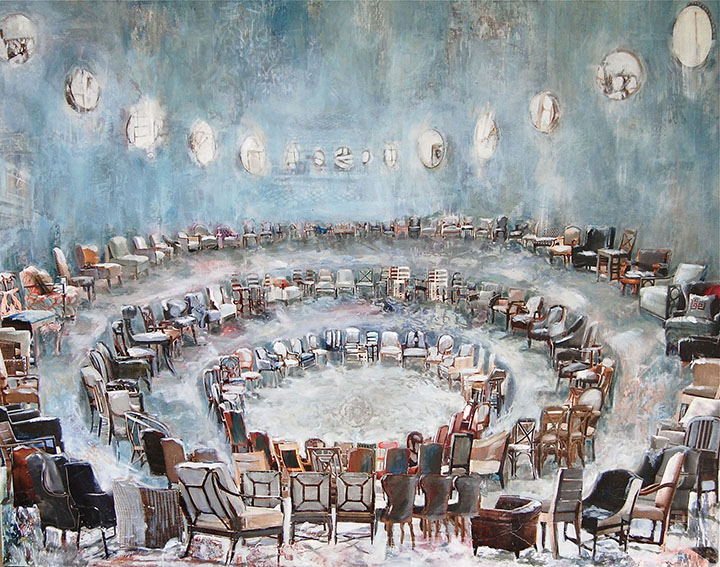 AN EMPTY CHAIR CAN DO A LOT OF EXPRESSIVE WORK
A cross between an art happening and a cocktail party (without the cocktails)
October 31, 2021 6:30-8pm in the artPARK
Presented by Pomerene Center for the Arts. Hosted by Community Studio Artist Anne Cornell and Shelley McCarty.
It's FREE
According to Wikipedia, the three rules for throwing a successful cocktail party are as follows:
"It should not last long, an hour and a half maximum, the time one can stand up, even if there are chairs for weaker constitutions.
Guests should enter and leave freely, avoiding elaborate greetings on arrival and departure.
Conversation must avoid passionate subjects (personal, political or religious topics) to keep a harmonious and cheerful ambiance"
"AN EMPTY CHAIR…" follows the first two principles flawlessly — 1. Time 6:30-8pm 2. Guests freely enter the artPARK and — rather than the traditional cocktail party icebreaker of going directly to the bar — find a spot straight away to place the empty chair they've been invited to bring. Abby Callis, one of the event artists, will be on hand to offer a cup of warm cider. As per rule number three — there are no guarantees given the theme "shared loss/unnamed longing." In addition to the chairs, guests are asked to come in costume that includes a written theme-based message.
This is an experimental evening in which guests participate creatively in conversation with each other. Like all cocktail parties, sociability is the point.
For more information, follow the Pomerene Center for the Arts on Facebook or Instagram.