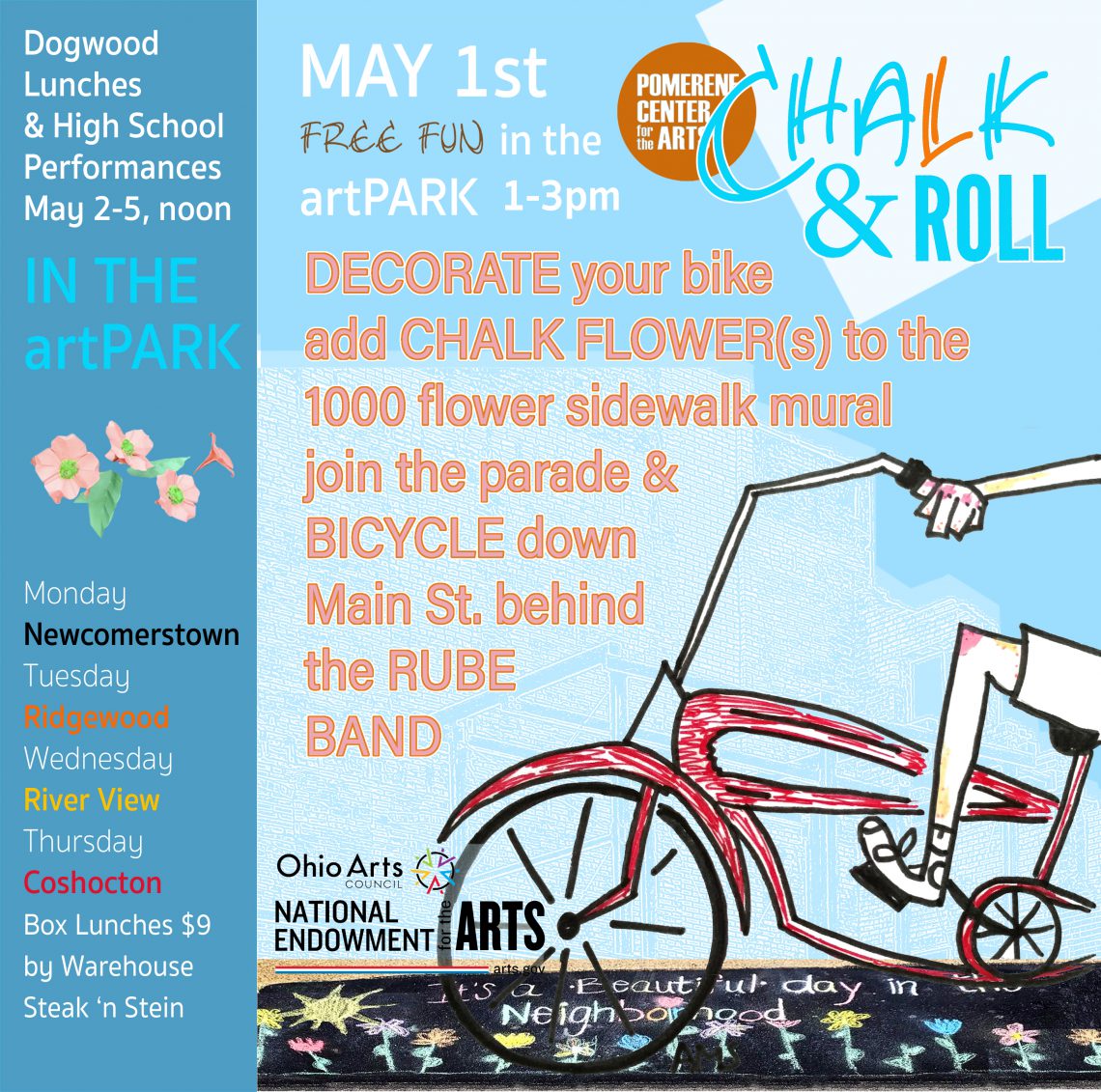 Because it's spring and the dogwoods are blooming and art makes life interesting.
Sunday, May 1 through Thursday, May 5. POM artPARK
The great thing about spring is it's really enough just that it's spring.  Very simple pleasures feel new and special—pleasures like riding your bike, drawing with sidewalk chalk, picnicking… For the 37th year the Pomerene Center for the Arts presents Dogwood! a once-a-year downtown salute to spring.   .   
Here's what's going on.
CHALK & ROLL Sunday, May 1, 1-3 pm
1 – 2:30 pm: bicycle decorating,
2:15 pm: parade lineup
2:30 pm: bicycle parade follows the Walhonding Rube Band down Main Street. The Parade will turn around in the Public Library parking lot and return to the artPARK.
ALL AFTERNOON: Unicorn Photo Op, Chalk drawing — 1000 Flower Sidewalk Mural, RV roller coaster balls will be out
Dogwood! music and box lunches
May 2-5m, noon in the artPARK
Box lunches by Warehouse Steak 'n Stein come with cookie chips and water. $9
Mon. May 2     |  music: Newcomerstown  
                               menu:  Italian Sub or Ham and Cheese Sandwich
Tues. May 3      |  music: Ridgewood High School Jazz Band & Dynamic Chorale
                                menu: Turkey Club  or Roast Beef & cheddar Sandwich
Wed.  May 4     |  music: River View Jazz Band, Caribbean Drum & Certified Gold
                                menu:   Chicken Salad Croissant or Chef Salad
Thurs. May 5   |  music: Coshocton High School Jazz Band and Choir
                                menu:  Italian Sub or Turkey Club