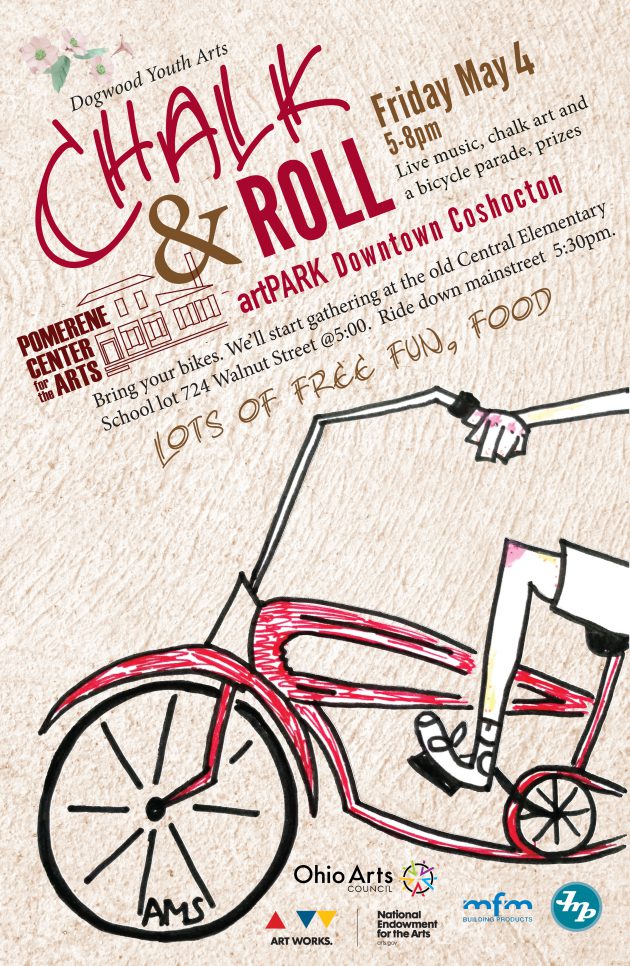 Dogwood Youth Arts Celebration 2018
DOGWOOD YOUTH ARTS CELEBRATION
MAY 4-11, 2018
Dogwood Youth Arts Celebration kicks off annually the First Friday of May.  It is a week we spend building our arts & culture legacy by showcasing young Artists and Musicians in the heart of the community.
When we try to explain the vitality of arts and culture in our rural county…our museum, historic canal town, botanical garden, theater, community choir, community band, art center…we point to two things
Coshocton is the birthplace of the Promotional Products Industry (in the 1900's we boasted the second highest per capita population of artists east of the Mississippi)
Our deeply rooted Appalachian citizenry
This is a legacy worth carrying forward through new generations!
Here's the schedule—come join in the fun.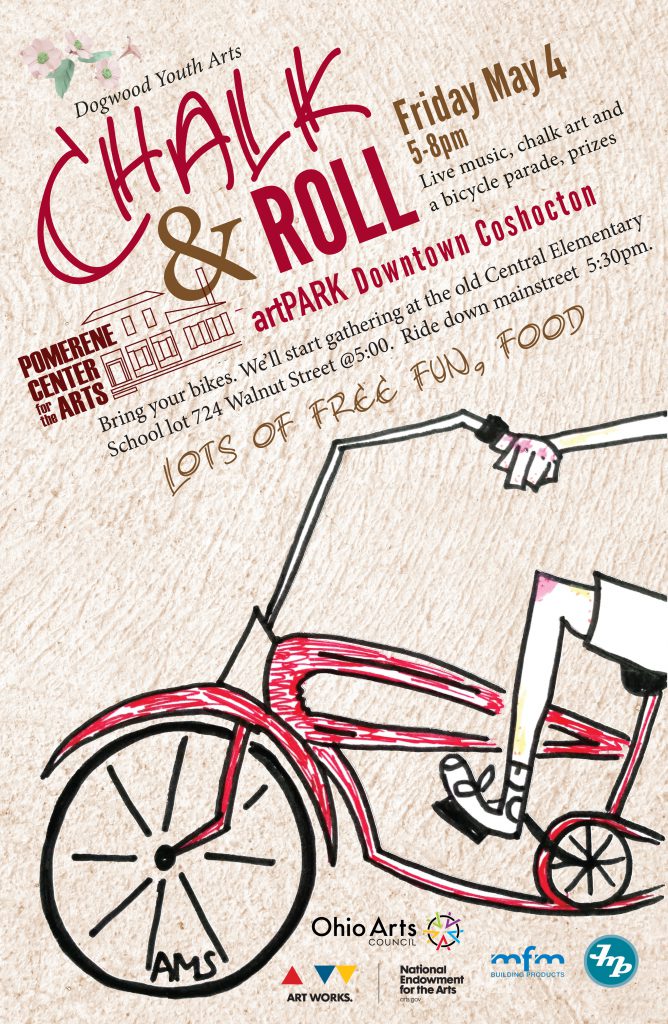 MAY 4, 5-8pm Downtown Coshocton CHALK & ROLL
Artists will begin making their chalk art in the Pomerene Center artPark (325 Main Street) as early as noon. There are tables and stools where they are working. So bring your lunch out and get a feel for how things are starting off.
Youth artists will join in the artmaking after school.  Rain strategies include tents and plastic to cover work during periods of gentle rain. We do have a rain date, Sunday May 6, noon – 6pm if the weather is totally inclement. Artists—click here to register.
Cash prizes will be awarded by popular vote for favorite Professional, Amateur, Under 18 and Team. Voting will take place throughout the week and winners will be announced Friday May 11 at 5pm on the Pomerene Center for the Arts FaceBook page.
5-5:30pm Bicycles gather in the old Central Elementary School Lot. Decorating tables will be set up for anyone who wants to embellish their ride. The Walhonding Rube Band will be playing to start the parade juices flowing. Prizes will be awarded in 5 categories — Largest Group, Best Decorated under 18, Best Decorated over 18, Noisiest Bicycle, Bicycle Most in Need of Paint
5:30pm Bicycle Parade along Main from 8th St. – 3rd St.
5:45pm – Bicycle Parade prizes awarded from the artPARK Main Street Stage
6pm – ART CONNECTS CHS Fountain Ribbon Cutting Ceremony in the artPARK gardens
MAY 6, COSHOCTON FARMER'S MARKET 
8:30am-noon – with youth performers
MAY 7, COSHOCTON PRESBYTERIAN CHURCH
3pm – Free concert—Bradley Hunter Welch performs on the Taylor Boody Tracker Organ a legacy gift from Mr. & Mrs. Joe Engle
MAY 8-12, ROTARY GAZEBO on the COURT SQUARE 
noon – Lunches on the Court Square (see complete schedule in side bar)