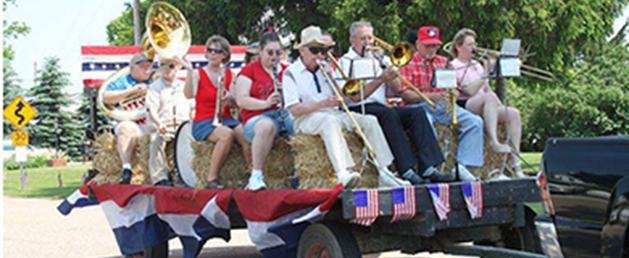 Festival 2015 Linked In Musicians
The 30th annual Dogwood Festival–LINKED IN celebrates how our individual and small Coshocton County community life is enhanced by our friends and family who live "outside."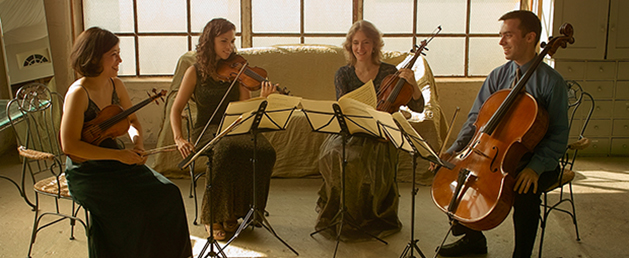 MOMENTA QUARTET 
performing at River View High School 
Friday, May 1, 1pm
Friday May 1, 7pm
and the GRAND ARTS DINNER 300 Block Main Street
Saturday May 2, 5:30pm  
Praised by the Washington Post for "an extraordinary musical experience" and by the New York Times for its "diligence, curiosity and excellence," the Momenta Quartet is celebrated for its innovative programming, juxtaposing contemporary works with great music from the past. Momenta has premiered over 80 works and collaborated with over 100 living composers while maintaining a deep commitment to the classical canon. In the words of The New Yorker's Alex Ross, "few American players assume Haydn's idiom with such ease."  Momenta Quartet is linked in through Adda Kridler, a Coshocton native and daughter of Anne Cornell and David Kridler.
Emilie-Anne Gendron Violin, New York, NY; Adda Kridler Violin, New York, NY; Stephanie Griffin Viola, New York, NY;  Michael Haas Cello, New York, NY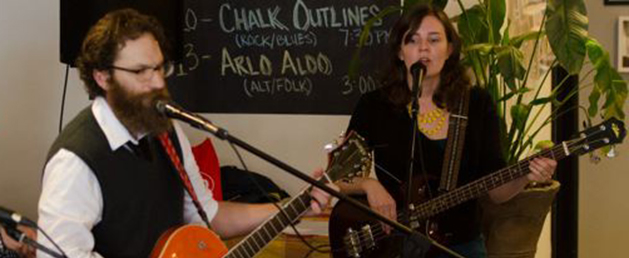 "ARLO ALDO CREATES SOMETHING THAT IS BETWEEN JOHN DENVER AND BONNIE PRINCE BILLY. THEY SHOW US THAT FOLK COULD DEFINITELY BE EXCITING!" – AUDIO-CAMP.COM
performing for the COSHOCTON FARMER'S MARKET 300 Block Main Street
Saturday May 2, between 9am-noon
Two members from the Pittsburgh indie/americana band Arlo Aldo will be joining us at the Farmer's Market in 300 Block of Main Street, Saturday morning May 2 from 9am-noon –David Manchester on Guitar is the band's Lead Vocalist and Susanna Meyer on Bass sings Harmony.  Susanna's link to Coshocton County is her parents Ron and Mary Meyer. Oh yes! She's a Strawberry Hill Farm girl. Susanna of course is Arlo Aldo founder David Manchester's link to Coshocton. The band takes its cue from the traditional folk, americana and blues sounds of bands such as the Carter Family, The Low Anthem, and Magnolia Electric Company. Arlo Aldo plays live throughout the Pittsburgh area and is available for house shows as well. Read more about Arlo Aldo here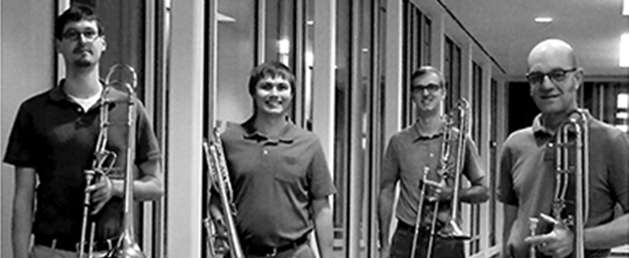 40 NORTH TROMBONE QUARTET 
performing for the GRAND ARTS DINNER 300 Block Main Street
Saturday May 2, 5:30pm  
The 40 North Trombone Quartet grew out of a conviction that live music should not be reserved for the concert hall.  While music infuses our daily life, it is more often played by a stereo than by artists. The quartet's members play in orchestras from West Virginia to Iowa but all live on the 40th parallel and come together to enrich their communities with the energy of live music. From neighborhood festivals to holiday occasions to chamber recitals, 40 North's unforgettable performances help create the perfect event. The group is linked to in through trombonist Lucas Kaspar. Lucas lives in Coshocton with his son and wife Taisha who teaches math at River View Junior High.
Quartet members: Lucas Kaspar  Coshocton, OH; Benjamin Coy Columbus, OH; Evan Robinson Wheeling, WV; Joel Shonkwiler  Columbus, OH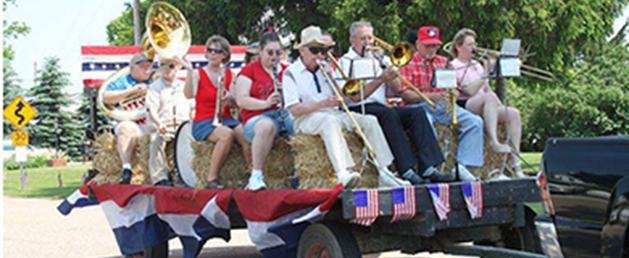 WALHONDING RUBE BAND
performing for the GRAND ARTS DINNER 300 Block Main Street
Saturday May 2, 5:30pm  
The Walhonding Rube Band was formed around 1915, is multigeneraltional, & includes musicians from several counties. No secret how the Rube Band is linked in!  They are firmly rooted.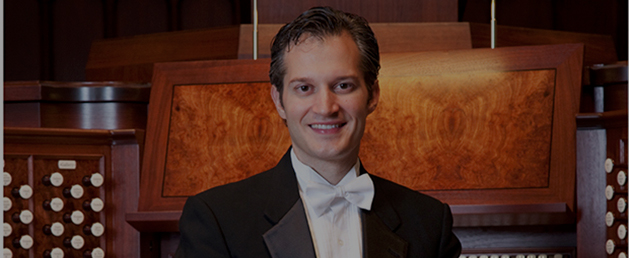 DR. BRADLEY WELCH IS HAILED AS A "WORLD CLASS VIRTUOSO" AND "AN EXPERT AT DEFINING DARKS, LIGHTS, SHADOWS AND COLORS," ON THE ORGAN
performing in the sanctuary COSHOCTON PRESBYTERIAN CHURCH on the corner of 4th & Chestnut  
Sunday May 3, 3:00pm  
Bradley Welch is in demand as a recitalist, concerto soloist, and collaborative artist.  Currently he devotes his full-time attention to a thriving career as a concert and recording artist. In addition, he serves as artist-in-residence at Christ Church (Anglican) in Plano, Texas.
This is the second recital Dr. Welch has performed on the on the extraordinary custom-built Taylor Boody tracker-action organ at the Presbyterian Church.  The organ , dedicated May 20, 1979 was a gift from Joe R. Engle.  Dr. Welch's  recital is part of a concert series that has continued through the years through the generosity of Engle.
"Our audience loved Bradley!  His musicianship is superb, and his performance was the finest I have heard in my 13 years here."
Rebecca Sawyer, First Presbyterian Church, Midland TX
"A grand and glorious concert it was and one those who attended will never forget.  Filled with excitement and eagerness, but played with masterful control."
Newsletter of the Chicago Chapter American Guild of Organists