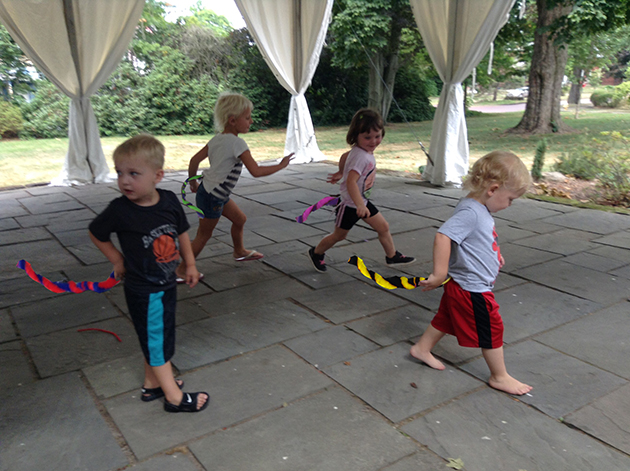 A Theater Play Date for preschoolers
Itty-bitty POM THEATRICALs
led by Mary Yaw McMullen & Anne Cornell
for children 2-5 years old
9 wks | Friday mornings, 9:30-10:15am Sept. 9 – Nov. 18 excluding 9/29 (CCFair) &10/28 (Halloween)
$45 (limit 8 children)

a theater play date for preschoolers
Itty-bitty POM THEATRICALs is a weekly play date for preschoolers at the Pomerene Center for the Arts where children are encouraged to discover and express themselves through movement & voice and "sets," costumes & masks they create. Family members are welcome but only required to stay if the child is still in diapers.
Following a 5 year career as Costume Designer/Shop Manager/and Instructor for the Department of Dance at OSU, Mary Yaw McMullen returned to Coshocton County in 2014 with her husband Kyle and two children.  She brings her 13 yr Freelance Costume Design business and her wealth of theater experience and knowledge along with her ebullient community spirit to Coshocton. 
Anne Cornell is the Artistic Director and Community Studio Artist at the Pomerene Center for the Arts.
check out photos from our summer Itty-bitty Theater Camp
to register
Download form here or email pomerenearts@gmail.com or call 740.622.0326
Pay online below, we'll confirm when we receive payment.  Or mail a check with your registration to Pomerene Center for the Arts, 317 Mulberry St. Coshocton, OH 43812