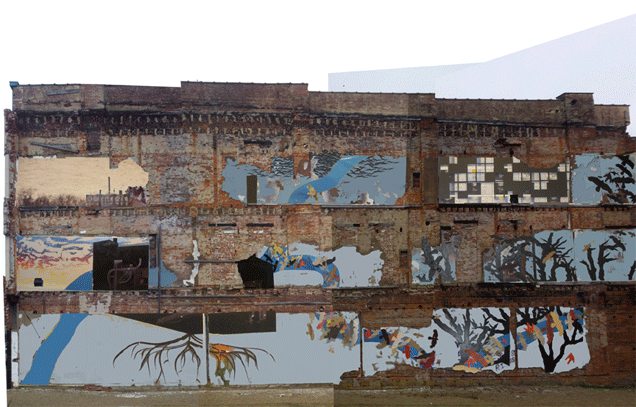 In collaboration with the new Gund Gallery at Kenyon College and inaugural exhibition artist Diana Cooper (NYC), Kenyon professor Karen Snouffer's "Painting Redefined" studio class translated Coshocton crow data into art.
The panels on display are designed to be enlarged to billboard sized images and "pasted" to a series of raw interior plaster walls clinging to what is now an exterior surface in downtown Coshocton. The design panels will be shown at Gund Gallery in May.
ARTISTS:Elena Anatchkova, Lara DelPiano, Mary Defer, Alexia Derkasch, Jan Ellis, Audrey Fenigstein, Ferrell Garramone, Grace Janzow, Emma Lewis, Natalie Karic, Noah Johnson, Nicholas Nazmi, Maxwell Olson, Kelsey Rice, Hanna Washburn, Sydney Watnick, Allyson Young. Maisie Mitchell, RVHS "14 and Kalina Scaggs-Payne CHS "13 participated in the project.
River View High School students Maisie Mitchell and Kylee King worked with the Pomerene Center for the Arts to collect crow roosting data throughout Feb. 2012. The role of geographical, meteorological and industrial systems are being analyzed for impact on the habits of the Coshocton winter crow roost.
The data is being analyzed and shared with crow researchers Anne Clark, Binghamtom U. and Kevin J. McGowen, Cornell Lab of Ornithology.
Crow Wall is on display through April 21