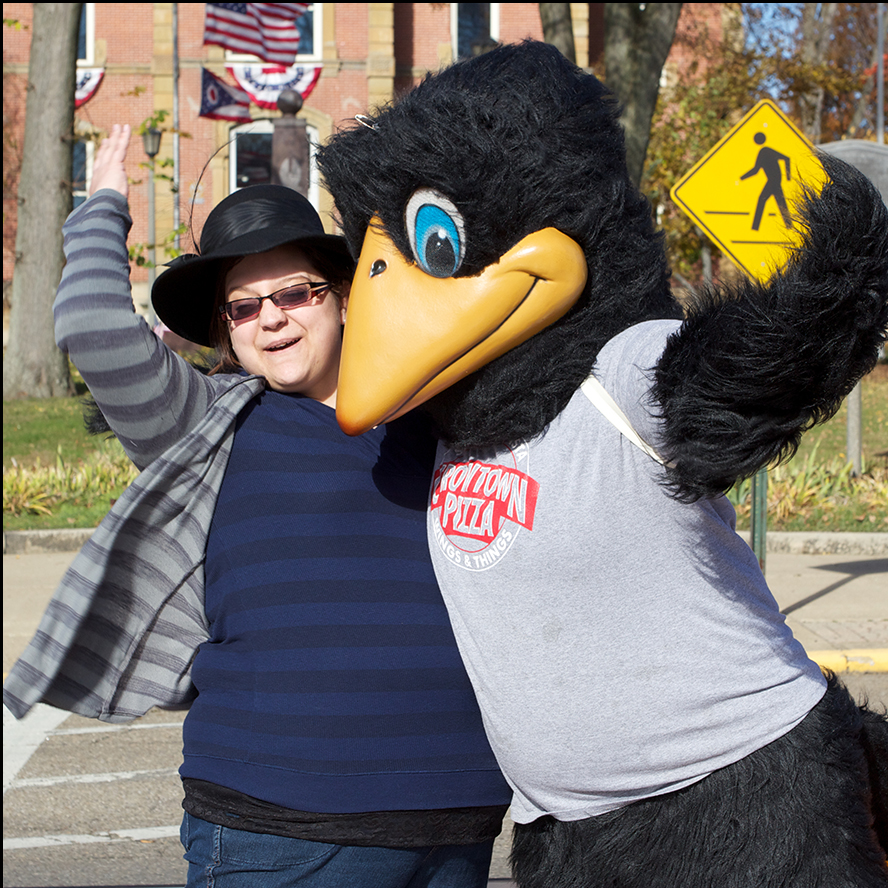 3rd Annual Crow Homecoming
The Pomerene Center for the Arts is proud to present DANCING IN THE CROWS–the 3rd Annual Crow Homecoming, Saturday November 8, 11-3pm, in the 300 Block of Main Street, Coshocton, OH. Lots of free fun.
Why a Crow Homecoming? Fiercely territorial and loyal to their family groups during the summer nesting season, crows undergo a fall/winter transformation and become "communal" by the thousands to roost, i.e. sleep together. These roosts are one of the great animal phenomena of the world. Notoriously intelligent, crows have moved their once rural roosts into towns where they find light, warmth and safety. Coshocton is one of those towns.
Annually, upwards to 10,000 crows gather nightly from early November to early March in a line of trees along the river. Science says they're here to stay. The Pomerene Center for the Arts says, "If you're given lemons crows make lemonade, hot crowcoa, serve krownuts, hang crow quilts, hold a crow calling contest and dance!
Why Dance? It is hard to watch the crows flying in to roost without thinking somehow it's a dance–so many bodies moving together through space–in time with each other. As an artform, there's something very celebratory about Dance.
This year's dance schedule looks like this: The week prior to the Homecoming New York dancer/choreographer Erin Carlisle Norton (daughter of Sue and Jon Carlisle–pastor at Coshocton Presbyterian Church) will conduct workshops with Coshocton High School and Ridgewood Middle School Phys Ed students, and dancers from Miss Jennifer's and The Silver Liners. Erin holds a Master of Fine Arts degree from OSU. Another Ohio trained dancer, Matt Simmers (senior dance major at OU and River View alum) will conduct hip-hop workshops with Phys Ed students at River View High School.
Starting at 11am the morning of the Crow Homecoming there will be movement workshops with Crowtown Yoga and Cleveland based Dancing Wheels.
At 1pm (think parade) all the workshop groups will come together to perform DANCING IN THE CROWS with a special appearance by Rainbow Crow. This street performance will followed by a community street dance with HiFi Rendezvous.
What about the other arts? There will be a crow calling contest–think singing contest. There will be paintings, quilts and crow sculptures on display. There will be a make and take origami crow table, a chance to make and leave behind crow chalk art.
And what about other festival-like things? There are THINGS TO WIN–a crow quilt by the Coshocton Canal Quilters, a ceramic crow by Zanesville based artist Arthur Kettner, THINGS TO BUY–Ohio State of Mind will be crossing the river to sell work by Ohio-based artisans, FOOD TO EAT–Oscar Rose & the Warehouse Steak n' Stein will be cooking Drunken Crow Quesadillas on-site and selling other crow themed foods, MUSIC-HiFi Rendezvous, and an Antique Black Truck Cruise-In.
The Crow Homecoming is supported by the Coshocton Canal Quilters, the Ohio Arts Council and a National Endowment for the Arts Our Town grant. Through Our Town, the NEA supports creative placemaking projects that help transform communities into lively, beautiful, and sustainable places with the arts at their core.
Notes: The Dancing Wheels workshop is by registration only. To register for the workshop call 740.622.0326 or access the application online here. At 4pm, Dancing Wheels will perform at Raven's Glenn Winery. Tickets are $15, wine and appetizers included. Student tickets, $5. Tickets can be reserved by calling 740.622.0326 or purchased at Raven's Glenn or online here.
FREE EVENTS Schedule
all takes place in the 300 block of Main Street unless otherwise noted
11:00
Brief OPENING CEREMONY
Dancing Wheels Workshop in the Salvation Army gymnasium, pre-registration required. To register for the workshop call 740.622.0326 or access the application online here
Crow Calling Contest Registration until noon
Make & Take Origami Crow Table through 3pm
Crow Chalk Art Make & Leave through 3pm
Black Truck Cruise-In through 3pm
Quilt and Art Display through 3pm
11:30
Crowtown Yoga 20 min. class
Crow Calling Demo and Workshop
Street Dance Demo & Workshop
12:00
Crowtown Yoga 20 min. class
Crow Calling Demo and Workshop
Street Dance Demo & Workshop
12:30
12:50
Crow Calling Contest Prizes awarded
Winning ticket drawn for the Coshocton Canal Quilters Crow Quilt Raffle
1:00
Dancing in the Crows Parade – Dance Performance
1:15
Hifi Rendezvous – Music and Street Dance until 3pm